It seems that the feel of Egypt is coming back to the Free Fire with October 2020 Elite Pass. As the 2nd edition of Anubis Legend Elite Pass is coming to the game. The Anubis Legend Elite Pass was introduced to the Free Fire in March 2019 as Season 10 Elite Pass, and now with Season 29 is bringing its sequel.
The Season 29 Elite Pass is up for pre-order in the game and will be available from October 1, 2020. Like all previous Elite Passes, it also brings exclusive male and female bundles along with one pre-order reward.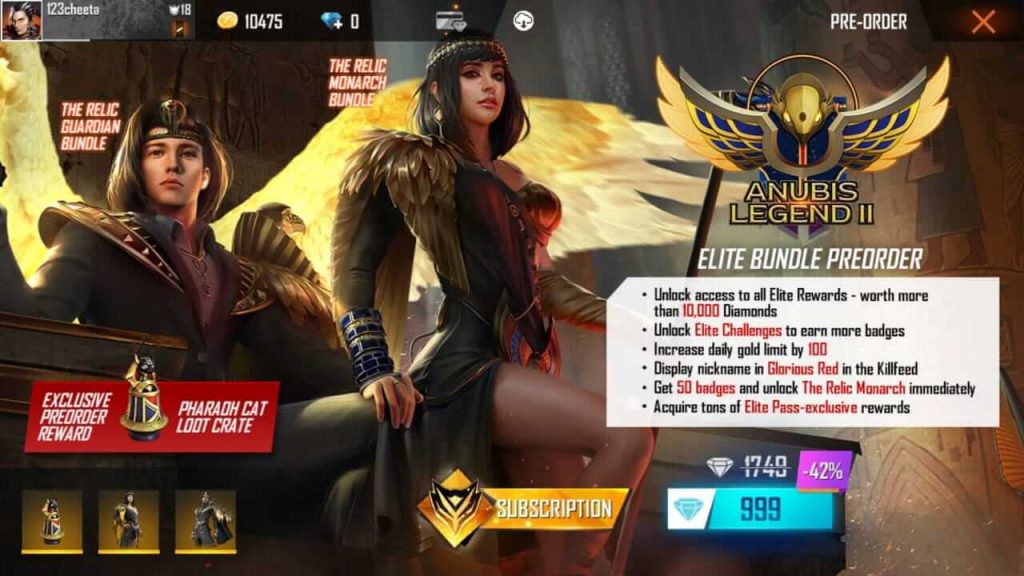 Free Fire New Elite Pass of Season 29 brings 'The Relic Guardian' as the male bundle and 'The Relic Monarch' as the female bundle. As always, there is an exclusive pre-order reward. The Elite Pass can be pre-ordered at the cost of 999 diamonds, and all the players who pre-order get 'Pharaoh Cat Loot Crate' as a pre-order reward.
How to pre-order Season 29 Elite Pass?
You can pre-order the Season 29 Elite Pass (EP) from the 'Store' section of the game. There are two methods of pre-order: either by spending 999 diamonds or by monthly subscription.
Follow the steps to pre-order Anubis Legend 2 Elite Pass:
Open Free Fire App
Go To Store Section (available at the left side in the lobby)
Click on Celestial Street banner (Under Normal tab)
Click on 999 Diamonds and confirm your purchase.
If you want to buy a subscription for pre-ordering every season's Elite Pass that costs $8.99/season, Go to 'Subscription.'
– Click on 'Subscribe'
– Confirm the purchase.
Free Fire Season 29 Elite Pass Pre-Order Rewards:
As there are two methods to pre-order the Elite Pass, so there are different benefits of both methods.
Rewards Unlocked by Spending Diamonds:
Unlock access to all Elite Pass Rewards – worth more than 10,000 Diamonds.
Unlock Elite Challenges to earn more badges.
Increase the daily gold limit by 100.
Display nickname in Glorious Red in the killfeed.
Get 50 badges and unlock 'The Relic Monarch' immediately.
Acquire tons of Elite Pass – exclusive rewards.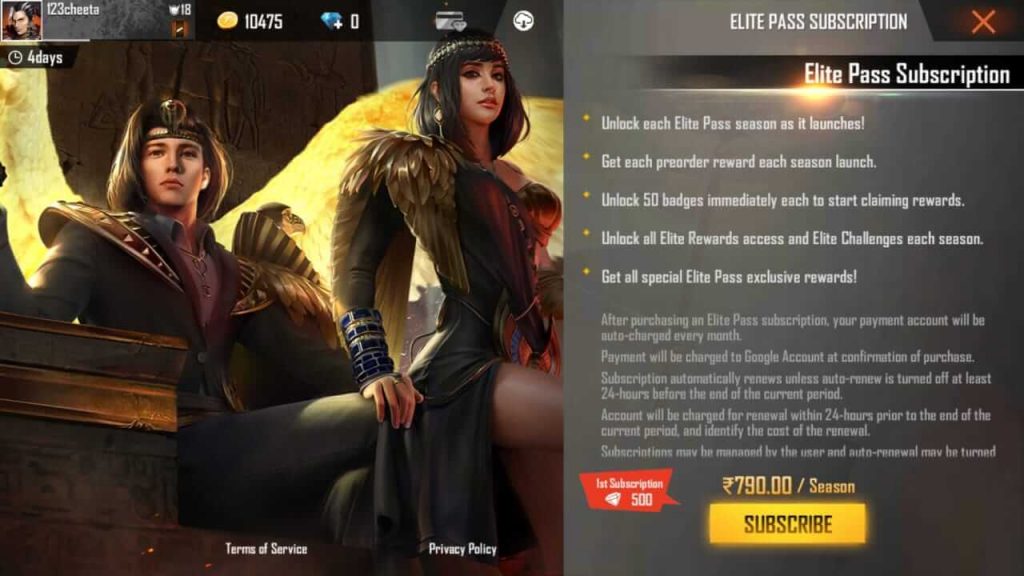 Rewards unlocked by buying the subscription:
Unlock each Elite Pass season as it launches!
Get each pre-order reward each season launch.
Unlock 50 badges immediately to start claiming rewards.
Unlock all Elite Rewards access and Elite Challenge each season.
Get all special Elite Pass exclusive rewards!
You are free to choose any of your preferred option to pre-order the Elite Pass. Using either option, you will definitely get the exclusive pre-order reward 'Pharaoh Cat Loot Crate.' Get ready to collect badges to redeem new items from the Elite Pass coming on October 1, 2020.
---
If you are impatient like me and can't wait for October 1 to see the Elite Pass rewards, click here to see all the items. That's it for this post! Stay tuned with MobileModeGaming for the latest Free Fire News & Updates.