Player Unknowns Battlegrounds Mobile Version, popularly known as PUBG Mobile, has an exciting event for the players. The developers never fail in meeting the expectations of the players. It has come with certain innovative events in Season 14. The Tactical Drill Event is one of the new events. The Event has brought exciting game skins, which will be rewarded to the players after completing specific missions. Here are the details of the Tactical Drill event:
Tactical Drill Event is an event in which players will be rewarded with exciting skins upon completing certain missions. The Event is available from 30th July 2020 to 30th August 2020.
Here are the rules of the event:
Activate any given item at once. Only one item can be activated at one item.
After activating any item, complete the given missions to earn tactical points. There are 4 Daily missions that reset at 00.00 UTC. 1 weekly mission is also available.
Each item starts with 9 tactical points at the beginning. 3 points will be deducted for not logging in the game for any day. The item will be revoked at 0 tactical points.
To earn the items permanently, you have to reach the maximum tactical points.
After the end of the Event, tactical points will be converted into limited-time rewards. More the points, the longer the duration.
An activation item will be discarded after 72 hours, but the tactical points will be 0. After reactivating, the tactical points will be restored.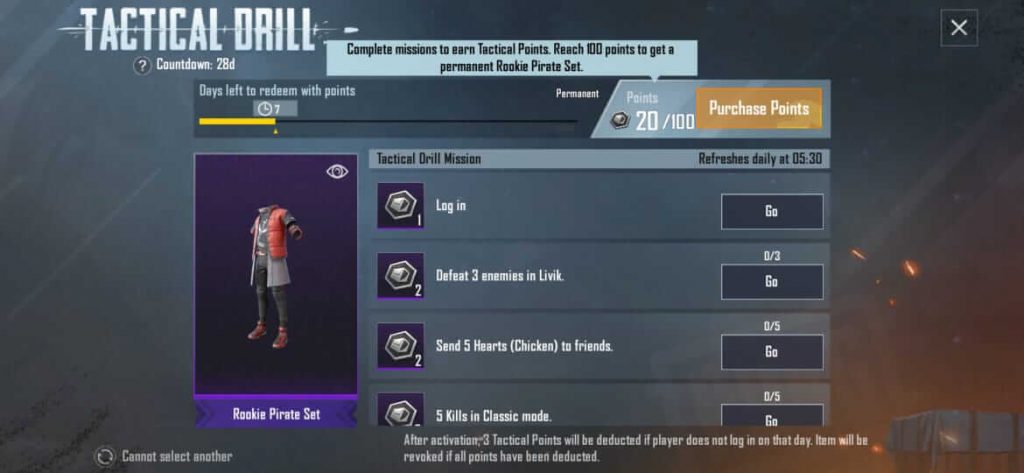 Here are the items available for the Tactical Drill Event:
Neon Punk (Blue) UMP45 Skin
Bowknot Parachute
Rookie Pirate Set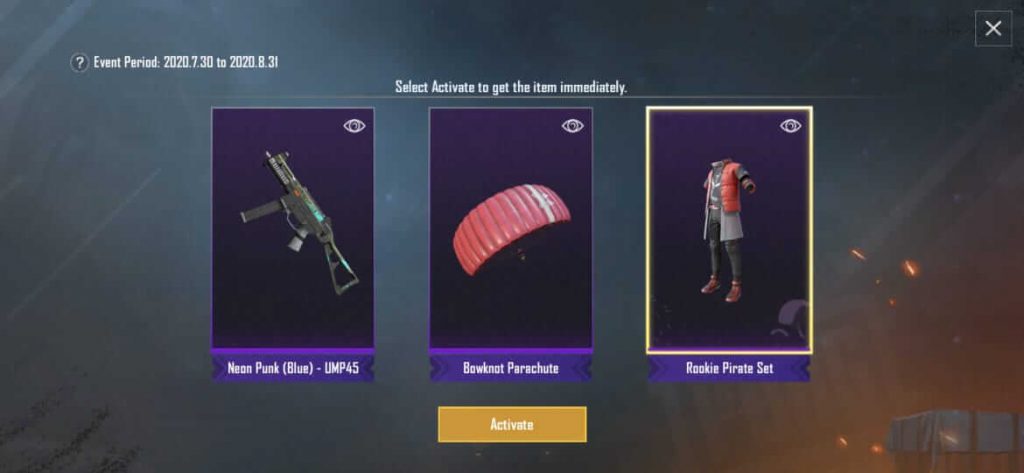 These are the exclusive rewards that are not available in any RP Mission Rewards or Coupon Crates. So this will be very beneficial to participate in the Event and earn the limited edition skins. Hurry up and don't wait for the event to end. Participate in Tactical Drill Event and earn the exclusive rewards.
---
Also Read: PUBG Mobile: Weekend Splash Brawl Event Guide