Based on the popular PC online game SoulWorker, Gameforge has officially released the mobile version of the game with more features and missions. SoulWorker Anime Legends has a lot of influence from its predecessor in terms of gameplay and vision.
SoulWorker Anime Legends decides to bring six heroes from their classic version. These include Haru Estia and Stella Unibell, the characters that are popular among the players in the PC version. There are also legendary characters like Lily Bloommerchen, Erwin Arclight, Jin, and Yuma. The heroes use soul as their weapon. In other words, each character has their fighting trademarks. The Soulum sword used by Haru Estia makes a return to the game. Similarly, the characters have their own weapons and battle styles, and they are pretty fun to watch.
On top of that, you can create your anime character. You can also customize your character with accessories. The game allows you to partake on quests all by yourself or with other players. The game supports PvP and PvE missions. That is, you can play with your friends or versus the environment. The anime elements, like the previous games, are impressive and enchanting. The game uses cel-shadings to support anime graphics. It gives you a feeling of being part of the anime. The controls are easy to use and master. Moreover, the background music is in line with the anime gameplay, giving the user a definitive experience.
The game has an interesting story, which can be progressed by playing further quests. You can lead your character to success by fighting monsters and other players. In conclusion, the main goal of the game is to battle and survive in these chapters and write a story of your destiny.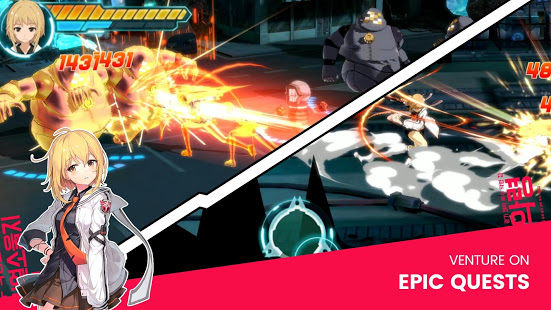 SoulWorker Anime Legends is available for both Android and iOS. The game is currently free on both AppStore and Play Store. It requires Android 5.0 and above, and in terms of iOS, it requires version 9.0 and above. It is compatible with iPhone, iPad, and iPod touch. If you are into massively multiplayer games with a pinch of anime, this game is definitely for you.