Free Fire has got its eighth edition of the Faded Wheel event that is live between 11th to 17th July 2020. Free Fire Faded Wheel Event brings a lot of rewards for players, including a grand prize. All rewards can be claimed by making spins using in-game currency (diamonds).
Faded Wheel 8.0 is offering Sakura Clubber Bundle as the grand prize, among other rewards. Another eye-catching reward is Duchess Swallowtail SKS Skin. Participating in the event is quite easy; you just have to make spins using diamonds, and before that, you get to remove two items that you do not wish to get from the prize pool.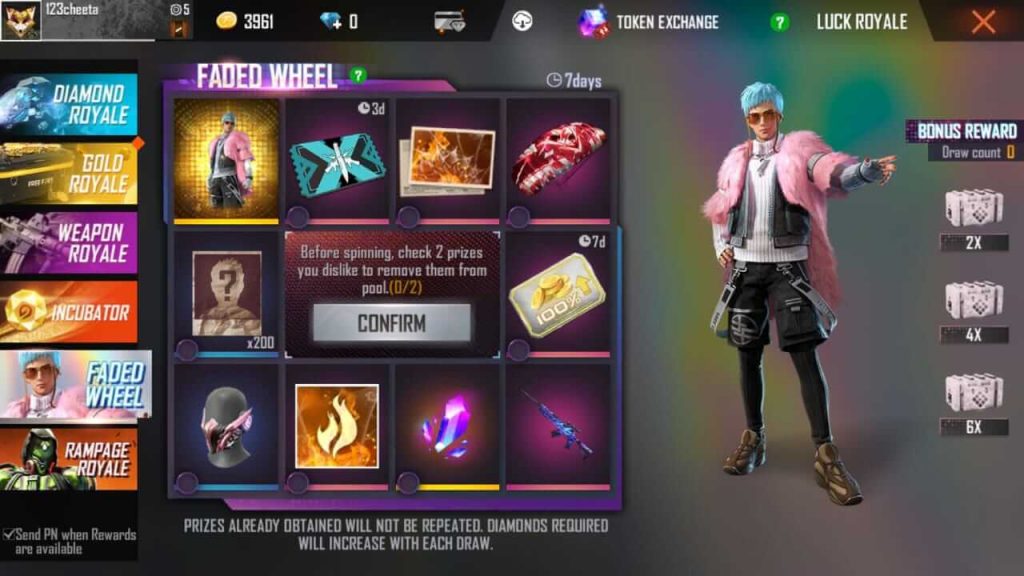 There are a total of 8 rewards (after removing two items) available that you can win in this event by making 8 spins.
Items Available in Free Fire Faded Wheel 8.0 Prize Pool:
Sakura Clubber bundle
Bounty Token Playcard (3 Days)
Force of Fire Banner
Rebel Academy Parachute Skin
Universal Fragment (x200)
Double Gold Card (7 Days)
Pinkblush Mask
Fire Avatar
Cube Fragment
SKS: duchess Swallowtail Skin
You are free to remove any two items from the prize pool before making any spin. To do so, select both items and then click on 'Confirm'. As mentioned for making spins, you need to pay some diamonds starting from 9. Price keeps on increasing after every spin, and items you have got once will be greyed out, which increases your chances of getting the grand prize.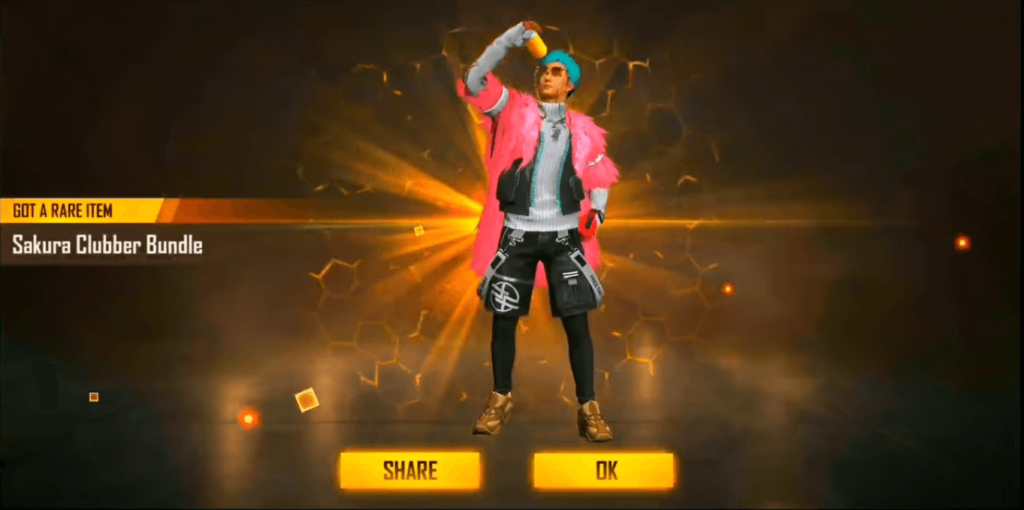 You are guaranteed to win all 8 items in 8 spins. Apart from getting rewards by making spins, you can also get bonus rewards for 2, 4, and 8 spins. Items you get throughout the event will directly be sent into your vault/collection.
Diamonds Needed For Spins:
First Spin: 9 Diamonds
Second Spin: 29 Diamonds
Third Spin: 59 Diamonds
Fourth Spin: 99 Diamonds
Fifth Spin: 149 Diamonds
Sixth Spin: 199 Diamonds
Seventh Spin: 299 Diamonds
Eighth Spin: 599 Diamonds
Extra Rewards For 2, 4, and 8 Spins:
2 Spins: Delux Loadout Bundle
4 Spins: Diamond Royale Voucher (x1)
6 Spins: Weapon Royale Voucher (x3)
Turn the wheel to collect various rewards, including grand prize 'Sakura Clubber Bundle' before Free Fire Faded Wheel Event 8.0 ends on 17th July 2020.
Also Read: How To Get Diamonds In Garena Free Fire
Stay tuned with Mobile Mode Gaming (MMG) for the latest Garena Free Fire News & Updates!