At the start of the last month, we informed you all that Eve Echoes, one last final beta version, will release in the first week of July before the global launch of the game i.e. scheduled for Mid-August. We even explained how to pre-register for that beta at that time. And if you registered, then you should smile when because Eve Echoes Final Beta Version is now Available to Download.
All the players who pre-registered for this beta version should have received an E-mail by NetEase, which shares more details about this Eve Echoes beta version and also provides details on how to get into the beta. The E-mail should look something as attached in the image below.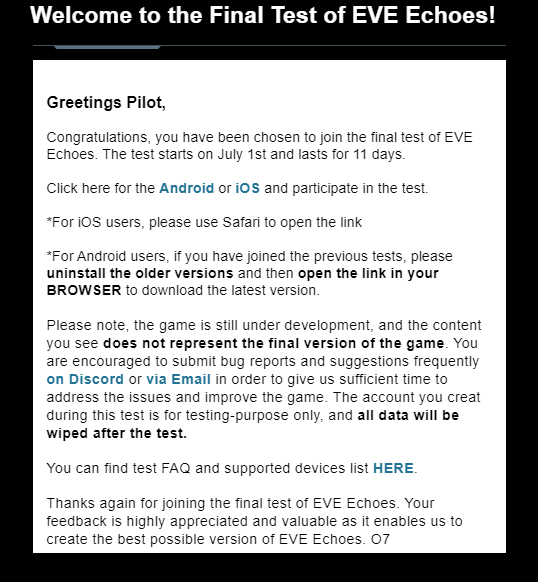 From this Email, we get to know that this last beta version of Eve Echoes will run for a total of 11 days. The data will be wiped after this test so that the beta players don't get a head-start.
Talking of how to download the Eve Echoes Beta Version? It's quite simple. If you have pre-registered for the beta, then you can simply download it for iOS and Android from the links.
So we will keep this post short and end it here. If you have any questions with respect to Eve Echoes Global Launch or Beta, then let us know in the comments section below.