A few days ago, Free Fire got an in-game notification as 'Free Fire Brawler Bash Coming Soon!'. In this notification, it was indicated that Free Fire is going to get another esports tournament very soon. In this post, we are going to share the complete details of the Free Fire Brawler Bash Tournament.
Free Fire recently finished with Free Fire Battle Arena and Free Fire Asia All-Stars Tournaments, and now it has come up with another tournament called 'Free Fire Brawler Bash' (FFBB).
Free Fire Brawler Bash Tournament Registration
FFBB 2020 is going to be a tournament for the top 36 teams from the Free Fire Cup (FFC) mode. The registrations will stat from 8th July and will be live till 10th July 2020. The minimum requirement for registrations is, every player must be of minimum level 41 and Diamond 1 Rank. We will share Specific details, as soon as any official announcement takes place.

Free Fire Brawler Bash Tournament Format
In FFBB 2020, a total of 36 teams will proceed to the Phase 2 (Knockout Stage). The 36 teams are going to be top 36 teams from the Free Fire Cup (FFC). These teams will be divided into 3 groups called Group A, Group B, and Group C.
Each group consists of 12 teams. Each group will play Best of 4 (BO4) in the group stage and after that reaches in the finals. Top 4 teams from each group are going to proceed in the finals, making it a total of 12 teams in finals.
In FFBB 2020 finals, the teams will play Best of 6 (BO6), and based on that; the winners will be decided. The amazing thing about Free Fire Brawler Bash tournament is that scores will be solely based on kills and not on placement points.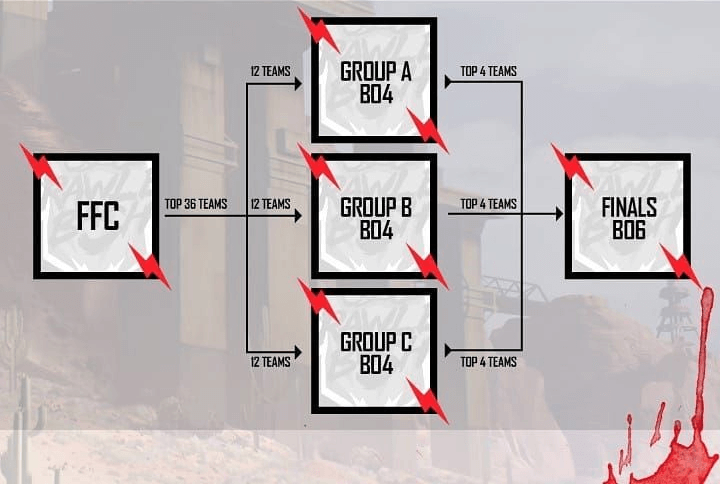 Unlike the all other previous tournaments, in FFBB, there are not going to be any placement points, the ranking will be decided on the points earned by kills. This time we are going to witness high-action gameplay and a massive massacre coming our way.
Also Read: How To Get Diamonds In Garena Free Fire
Stay tuned with Mobile Mode Gaming (MMG) for the latest Garena Free Fire News & Updates!