World War Doh is a game developed by Jam City. The developer has a lot of great games in their collections, such as Disney Frozen Adventures, Harry Potter Hogwarts Mystery, Paint Monsters, etc. World War Doh is a great addition to their collection of games. The detailed game review of World War Doh is given below.
It is a real-time strategy game in which the players play as one of the two psychotic generals who want to destroy each other. The gameplay is very similar to that of Clash Royale, but with a few notable differences.
Initially, the two generals want to sign a peace treaty with each other, but because of unfortunate circumstances, they run out of ink to sign the treaty. Thus, leading to an all-out war between them. The two generals discover a biological substance that allows them to create armies from their warped imaginations. Doh is essential to create armies.
This game is very similar to clash royale, but there are some considerable differences. There are only two towers in the battle, and the general is the third tower. The general can be used to attack enemy towers. If your general is dead, then the opponent wins the game irrespective of the number of towers destroyed. Therefore, it is essential to use your general carefully.
The game initially starts with a tutorial where you will get to know the basic controls of the game. The game consists of 52 cards currently. You can unlock this card by progressing through the game. By winning each battle you gain chests, unlocking chests allow you to get more existing cards and new ones. Also, by winning, you can feed your pig, when the pig is completely filled, it will grant you new cards.
Gameplay:
This game is very much similar to clash royale, instead of a king commanding his troops, the general commands the troops. The game sticks a little bit, and the refresh rate is also low. You can select your own deck of cards. You should pick a deck of cards with a low average cost of elixir.
World War Doh combines humorous and engaging gameplay with high production value, memorable characters, and unique social features as players try to defeat one another in real-time.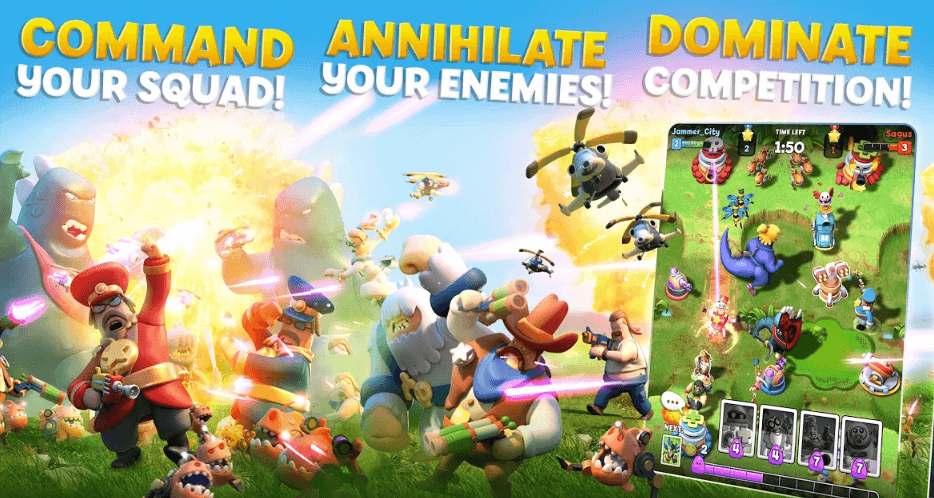 Clans:
Similarly to clash royale, this game also consists of clans, where you can join as a member of an already existing clan. Or you can become a dictator and create your own clan and dominate the world. You can trade your cards with your teammates for coins, ask for a donation or donate cards, which will earn you XP.
World War Doh is available to download on the Google Play Store and iOS App Store.