Free Fire has introduced a new event called 'Wheel of Discount' in the game. The event is live in the game between 19th to 25th June 2020. As the name itself suggest, in the Free Fire Wheel of Discount Event, a wheel decides the discount you are going to get on items.
The Wheel of Discount event is similar to the Mystery Shops. In the Wheel of Discount event also, before purchasing anything, you get to draw a discount from the wheel. The wheel has a various amount of discounts mentioned on it; now everything depends on your luck. The discounts available are as follows:
1 Diamond
50% Off
80% Off
70% Off
99 Diamonds
60% Off
75% Off
55% Off
If you get 1 diamond on the wheel, you can get anything from the pool at the price of 1 diamond only, similarly, with the 99 diamonds. In the case of percentage off, the price of items will be cut down by a particular percentage.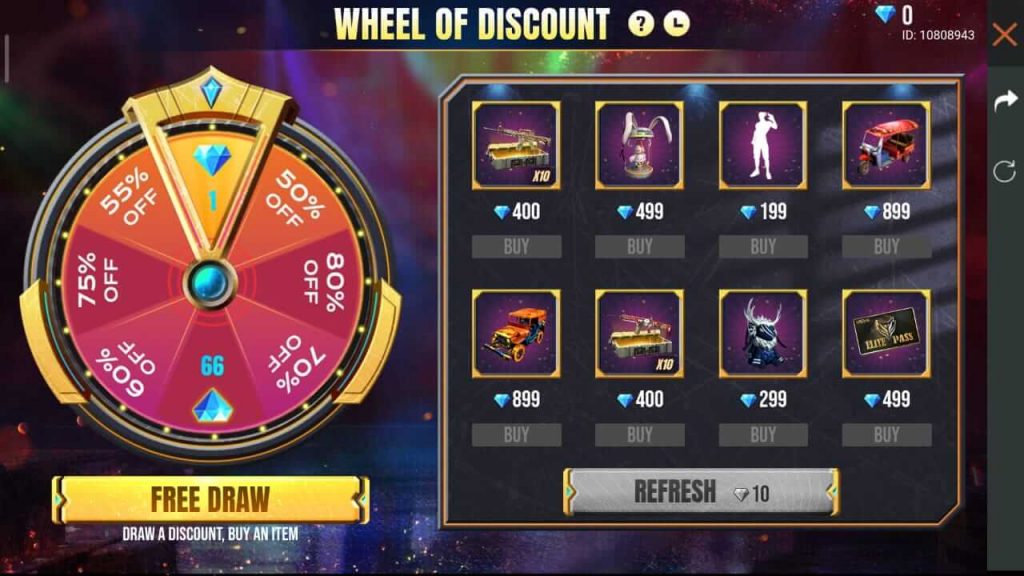 On the left side of the screen, you get the Discount wheel, which you get to draw for free. On the right side of the screen, you get to see the various items that can be purchased at the discounted rate.
The items include emotes, skins, gun boxes, and even the elite pass. If you are not willing to buy anything from the current prize pool, you can refresh it by paying 10 diamonds.
After making a purchase, you can spin the wheel for a new discount. All the items you get from the event will directly be sent into your vault/inventory. If you get duplicate of any, that will be converted into FF tokens.
Good luck and Spin away before the event ends on 25th June 2020!
Also Read: How To Get Diamonds In Garena Free Fire
Stay tuned with Mobile Mode Gaming (MMG) for the latest Garena Free Fire News & Updates!