Mobile Gaming industry is growing day by day, and after Computer Games, Mobile Games are also getting huge popularity in the eSports sector. Every other day, we get to know about the eSports Tournaments of Mobile Games with prizes worth millions.

Among other Mobile Games, Free Fire has also not left behind and organized various eSports Tournaments such as Free Fire Champions Cup, Free Fire India Championship, etc.
This time Free Fire has come up with an innovative idea in the eSports sector, in which Free Fire will be offering the prize pool of 5 lakhs per month. Yes, You read it right! Five lakhs per month (sounds like a job salary). It is going to happen because of the Free Fire New Initiative called 'Scrim Wars.'
Free Fire has introduced a pro event called 'Scrim Wars,' in which 48 professional Free Fire Team battle out against each other to win the whopping prize pool of Rs. 5 Lakhs Per Month. The 48 teams to play in Free Fire Scrim Wars have already been selected.
The criteria of selection have not been shared by the team behind conducting the Free Fire Scrim Wars. The teams participating include Entity Gaming, 8-Bit, Atp Kings, Team Arya, Stalwart Esports, Kingz God, FAB Soul, DEVIL DAD, B50, Mafia, Western Tiger, Nightmare, etc. These names must sound similar to you if you are a true fan of Free Fire.
All the above-mentioned teams have participated earlier in the Free Fire eSports Tournaments. So it can be said that the teams performed well in the previous tournaments have been invited to play in the Free Fire Scrim Wars Event.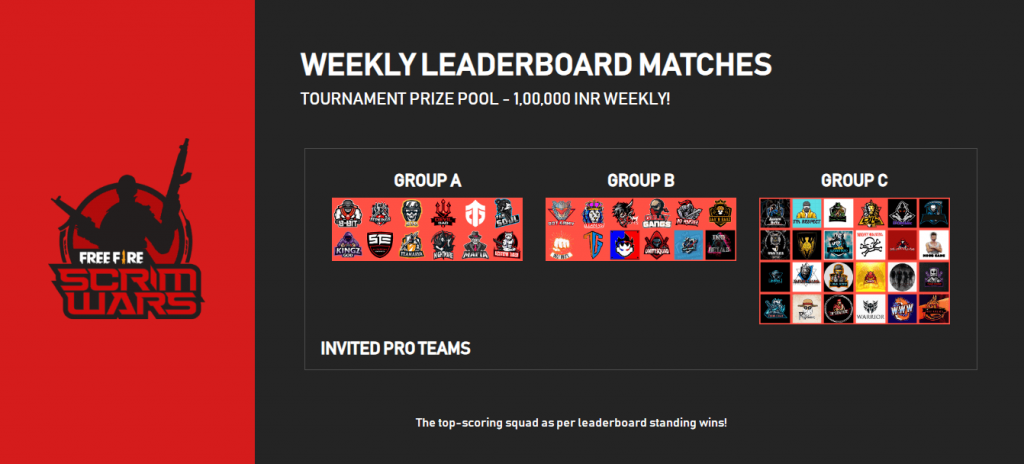 All the 48 teams are going to battle to see who is the best squad. Free Fire must have given a chance to all the willing teams to prove themselves as deserving, but nothing can be done now. But don't be upset, you can catch your favorite teams in action.
The matches to be played in Free Fire Scrim Wars Event will be streamed live on the Free Fire eSports India YouTube Channel on every Tuesday and Wednesday at 6 PM starting from today (28th April 2020).
The matches will be played every week, and the teams are going to play the Weekly Leaderboard Matches with a prize pool of 1,00,000 every week. The top-scoring squad as per leaderboard standing wins! You can also visit the Free Fire Scrim Wars Official Website. So get ready to catch your favorite squad in action at 6 PM.