Free Fire is a getting OB20 update on 25th February, which will bring a lot of new features in the game, including Kalahari Map. The map had made its way to the game twice earlier but for a limited period. Now with the OB20 update, it is making a permanent entry in Free Fire opening from 28th February.
If you are a Free Fire lover, you must remember that there used to be a location called 'Military Base' in Purgatory map, but later it got removed from the map. With this update, the location is making a come back in the Kalahari Map with the name 'Shelter Point.' 
Kalahari is a desert-based map with lots of high grounds and fewer covers. The new map is based on a real location in the Southern part of Africa Continent, which includes Angola, Vostawal, Namibia, and South Africa.
https://www.youtube.com/watch?v=7zc1qMpecXo&feature=youtu.be
Talking about the effect of the Kalahari map on the Purgatory, the new map is going to replace Purgatory in the Classic Mode right after the patch update is completed on 25th February. Purgatory will be limited to Ranked Modes and Custom Rooms only. It will also be opened in Purgatory – Rush Hour Mode, which will be available every day from 18:00 – 22:00 starting on 28th February 2020.
The developers shared the reason behind this restriction on their Facebook Dev Blog. It was mentioned that Free Fire made its entry with something special called 'Bermuda.' Since then, players were demanding a new map through feedbacks, which the developer team takes very seriously.
In consideration of demand, they came up with 'Purgatory.' But after some time, the team observed that both maps are good when looking from the gameplay perspective, but Purgatory still looks similar to Bermuda, and even it wasn't that popular.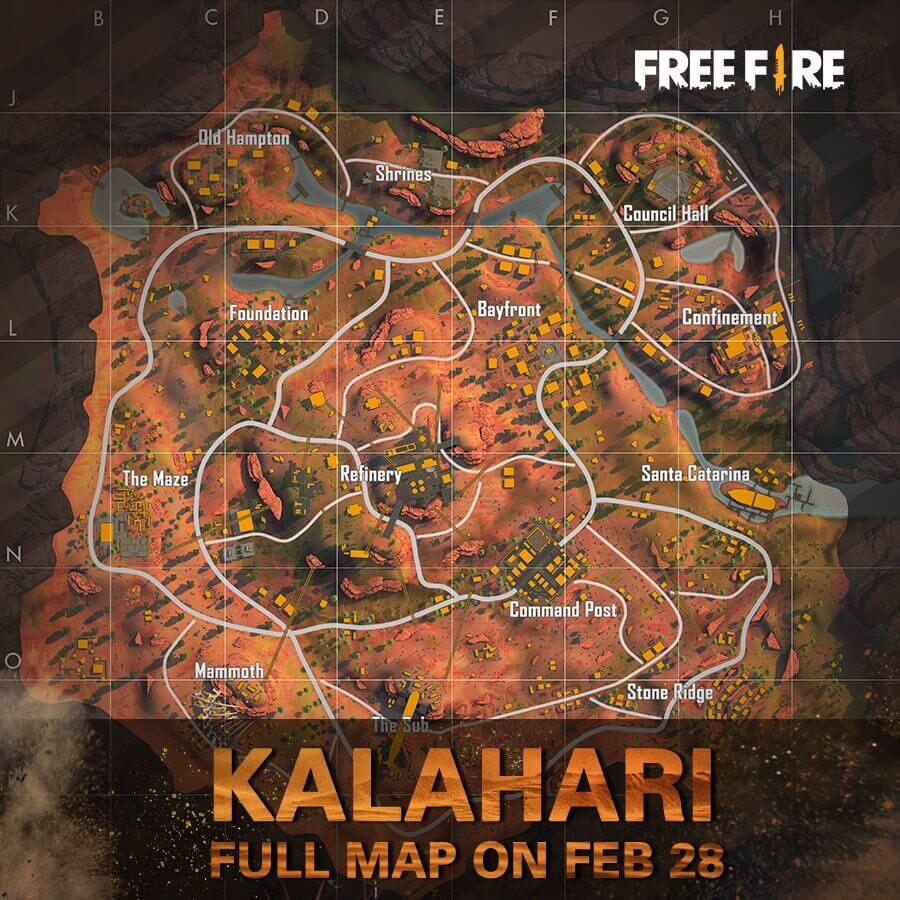 Later, they started getting requests for another map from continuous feedback. This time they knew that there is a need to develop something unique and different from both existing maps. So they put all the feedbacks & inputs, leanings from developing Purgatory, and set themselves to develop Kalahari.
The Art and development team, after putting a lot of effort, came up with a very detailed and beautiful map 'Kalahari.' Kalahari has landmarks and a unique style in each area which gives you elements of storyline what happened to this world, and a few hints of the lore of Free Fire.
Also Read: Garena Free Fire Upcoming OB20 Update Patch Notes
Stay tuned with Mobile Mode Gaming (MMG) for the latest Garena Free Fire News & Updates!