Nova is now a playable character in Marvel Contest of Champions, where Richard Rider, who is a high school student, comes into contact with the Nova Corps, a peace-keeping force based on the planet Xandar. Calling himself Nova, Rider becomes a Super Hero, teaming with other heroes such as Spider-Man and Thor to use his powers for the good of Earth and the universe while serving as its protector.
Nova wields the power of the Nova Force. This force manifests itself in the form of powerful gravimetric energy beams, protective shielding, and flight for its user. Nova's strength includes Medium Dash Attack- where he winds up a Dash Attack from a full-screen distance. Power Gain / Energize using this power, he can aggressively pressure his opponents and use Special Attacks; other abilities include defensive and long buff duration.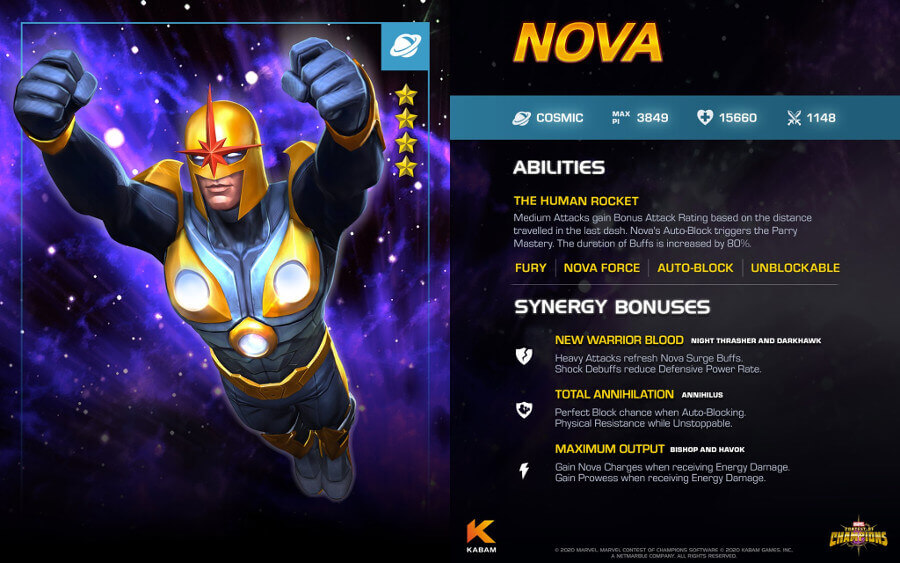 Nova's signature ability includes The Human Rocket, as you gain 1 Nova Charge each time Nova receives Energy Damage. If this game seems new to you, it's a game where you play with your favorite Marvel Super Heroes & Super Villains in the ultimate cosmic showdown! Spider-Man, Iron Man, Wolverine & more await your summons to battle! Assemble a team & begin your quest to become the Ultimate Marvel Champion!
Check out Marvel Contest Of Champions on Google Play Store and App Store.
Also Read: 10 Best Upcoming Mobile Games of 2020 You Should Keep An Eye On
Stay tuned with Mobile Mode Gaming (MMG) for the latest Mobile gaming news and updates!