The latest update in Call of Duty Mobile brings a lot of fantastic content. 'Holiday Draw' is one of the new features added into the game. This draw provides the players to try out their luck to win Crazy emotes, Gun Skins, and Tavo Rojoas in Garden Nomad uniform by spending some CP.
But we will recommend you to go through this article in details as in this post; we are going to share with you all the details of Call of Duty Mobile Holiday Draw. So Let's Begin: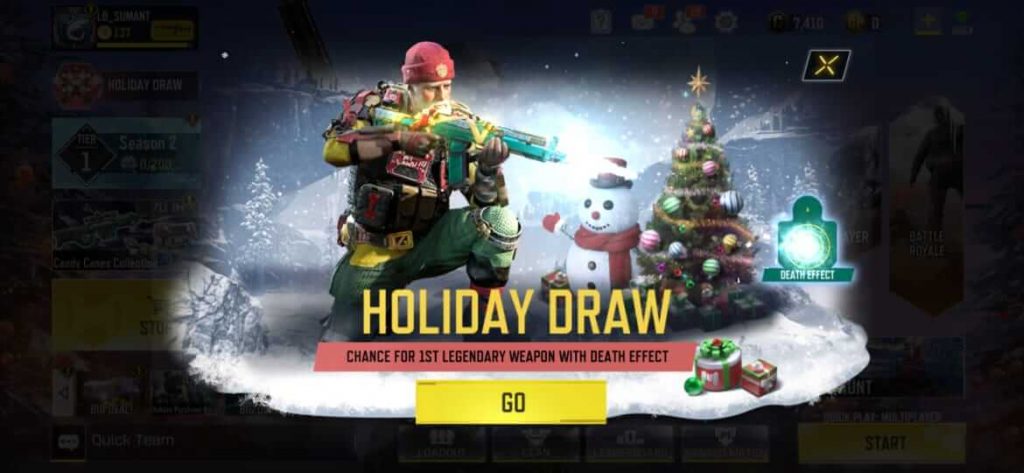 Activity time: 20/12 08:00 – 2/1 23:59
Event rewards: AK117 – Holidays, Nomad – Garden, other limited weapons and more!
Items that have been drawn will not be drawn again, and the CP required for each lottery will increase with the number of draws.
The amount of CP consumed by the lucky draw:
First Draw: 80 CP
Second Draw: 80 CP
Third Draw: 160 CP
Fourth Draw: 320 CP
Fifth Draw: 800 CP
Sixth Draw: 800 CP
Seventh Draw: 1,600 CP
Eighth Draw: 2,400 CP
Ninth Draw: 4,800 CP
Tenth Draw: 7,200 CP
Also Read: 10 Best Upcoming Mobile Games of 2020 You Should Keep An Eye On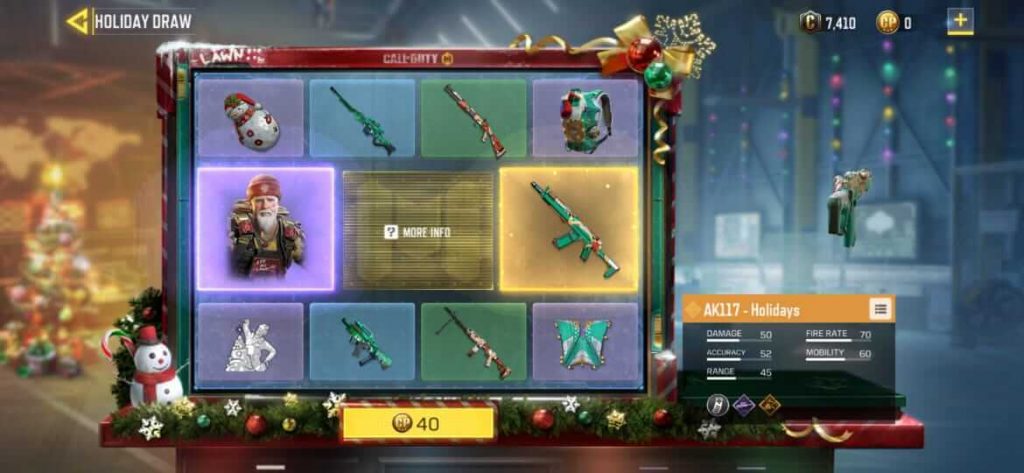 Legendary grade (orange) items include: AK117 – Holidays.
Epic grade (purple) items include: Nomad – Garden, Emote – Holiday Magic, Frag Grenade – Snowman, Backpack – Holidays, Winngsuit – Holidays
Rare grade (blue) items include: Knife – Candy Canes, Chicom – Aurora Borealis
Uncommon grade (green) items include: BY15 – Jack Frost, RPD – Jack Frost