Hello, mobile gamers! An official Disney character-based puzzle game 'Disney POP TOWN' has been launched by Sundaytoz Game Studios. So, get ready to relive your childhood by playing as different Disney characters. The game is available only for both android and iOS platforms. 
https://www.youtube.com/watch?v=3QiC5ns22ZY
The game opens up with your character receiving an email, and then your player hops onto a bus and goes to a barren town. After the intro, you have to select and customize your initial character. The first level begins at the Mickey mouse musical town. You need to build and renovate different sites of the town as you progress. The core gameplay resembles the puzzle mechanism of candy crush with an added path for your character to cross. After completing the puzzle, you use the unlocked game currency to build a particular item. You also receive gold, lives, and tickets after completing a puzzle.
You have lots of towns to unlock and build as you progress in the game. The towns offer you different Disney themes like Winnie the Pooh, Mickey Mouse and Friends, Aladdin, Frozen, And Disney Princesses.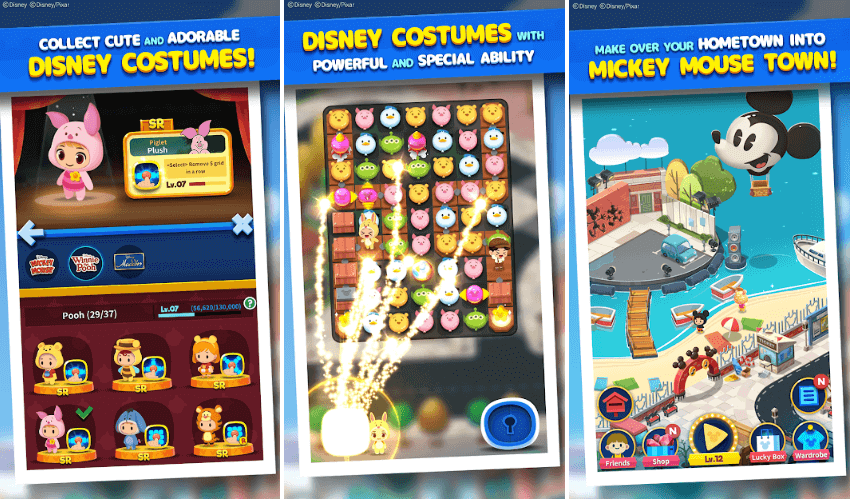 Graphics are crisp and minimalistic. Music and sound effects are well designed. The user interface feels smooth.
The overall gameplay is basic match 3 with added achievements and a good storyline, but there is nothing new to offer. The puzzles are really simple at the start and get tougher as you unlock new levels. There are many costumes to unlock and customize, which are inspired by different Disney characters; you also get an option to unlock different skills to help you with the building.
So, this is a good Match 3 game with lots of levels to unlock and explore. You also get decent options to unlock collectibles for your character. The gameplay is nice and simple but has nothing new to offer. You get costumes unlocked if you invite your friends. Some connectivity issues can be found at times. Disney POP TOWN is available to download on both Google Play Store and iOS App Store.