Pubg Mobile as of now provides for 4 options to Log-in into the game. You can play as guest without creating an account or you can choose to create an account and Log-in via Facebook, Twitter or Google Play Account.
Talking of Guet Log-in option it was a convenient way to login in to the game without sharing any credentials, the only neagtive of this method was that in case you reset your device or uninstall the game then you will lose all your progress as your game data is not saved on cloud in this process.
However, Tencent Games has recently decided to remove the Guest Log-in option from PUBG Mobile. They have announced the same In-Game which you can have a look at in the below-attached screenshot. Which clearly states that from 31 August 2019, the guest login option will no longer be supported in Pubg Mobile.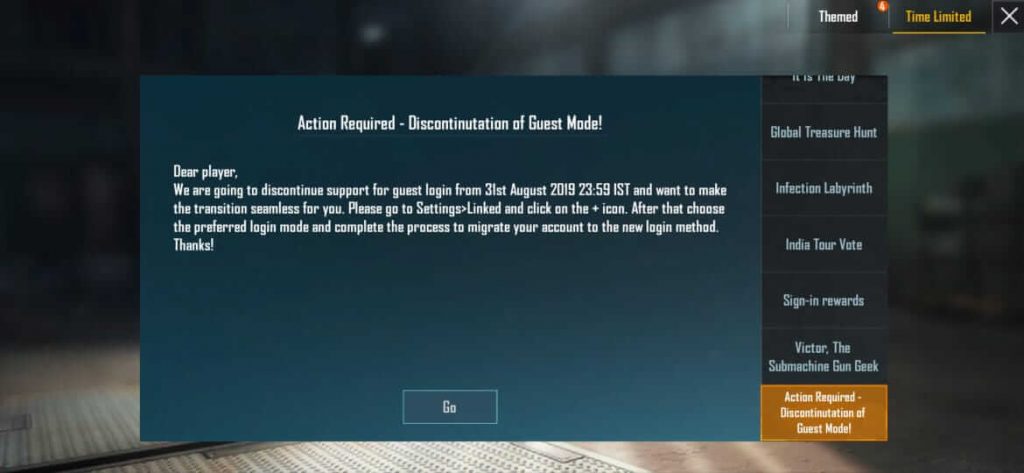 Thus, if you are one such player who is playing Pubg Mobile on Guest Account then you should defintely migrate from guest account to any other login option to avoid losing your progress in the game. You can learn to migrate Pubg Mobile Account by following the below-mentioned steps:
How to migrate PUBG Mobile guest account data?
Open PUBG Mobile And Go To 'Settings'
Find the 'Link' tab And Click on It
Here Find And Tap On The '+' Icon
Now Choose From Facebook, Twitter or Google Play and Login
That's it, now your account has Been Migrate from Guest Accout to Facebook, Twitter or Google Play whichever you choose.
Well why is Tencent Removing this Guest Log-in option from PUBG Mobile? Nobody knows, as they have not shared reason behind this, but if we were to take a guess we will say then have done this control Cheaters and Hackers in the game.