Hey Guys! we back with a thrilling strategic game which you will definitely love to play. By this post we will give our honest review of this game. This time we got 'Empire: Rise of Battleship'. The Empire: Rise pf battleship is a free-to-play strategic game developed by 5Star-Games. It is a is a combat and strategy game. This game provides you an opportunity to serve as a commander of the fleet to navigate across the whole sea and do combat with other players, govern the sea. Ahead of all, animation and visuals are quite amazing.
While playing this game you will experience many adventures related to marine lifestyle. In this game you have to build a marine base in which you can also put and develop various buildings to enhance your strength. You can also build many war machines like aircraft carriers, destroyers, submarines and other to make your fleet powerful to combat against others and govern the sea. You must build a naval base around the world, and defend against enemy attacks. Command the most iconic warships, destroyer and aircraft in the history and build your own massive naval fleet. To increase the ability and efficiency you have to level up important tech modules and prepare to dominate the ocean through countless sea battles against pirates, sea monsters, and players from around the globe with your wisdom and strength in this combat strategy game. You have to fight with sea pirates, warships of warring States and terrorists, command the best destroyers and build the most powerful Navy in the game. You can easily win out the games by your strategical abilities that will have a crucial role to defeat the enemy, do tactical moves, by bypassing enemies and attack unexpectedly at them.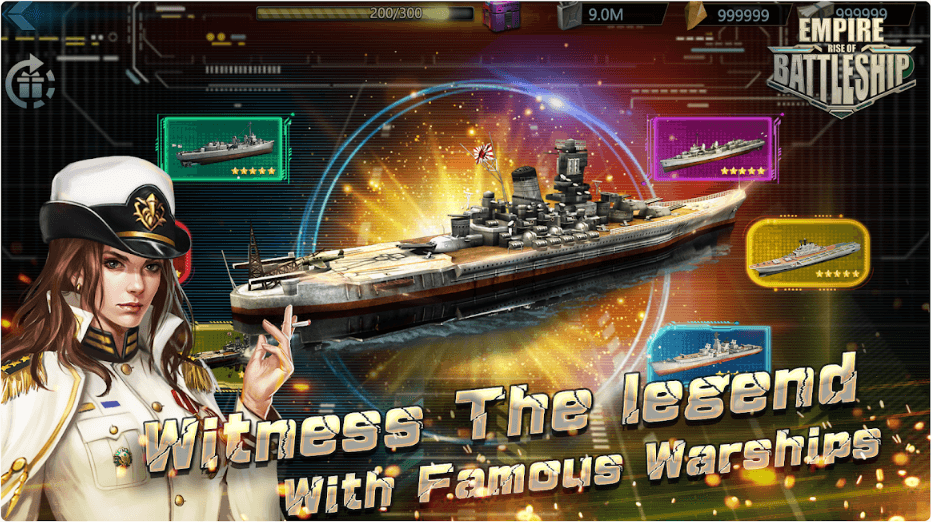 In this game you can form powerful alliances by joining other players around the world and embark with friends and allies to rule the ocean. Alliances are also possible in order to best destroy your opponents and rule the seas. You can also do Players vs Players Wars which can be battle out on a global scale. Above all, the game offers great rewards by joining in frequent activities from which you can get various free gifts and achievement that will help you to do progress in a game. Empire: Rise of Battleship is available to download on both Google Play Store and iOS App Store.