Naruto: Slugfest is an officially licensed mobile game, which is created under the Supervision of Shueisha, Studio Pierrot and TV Tokyo. This game is releasing very soon for the Mobile phones and Pre-Registration for it have already been started, you can Pre-Register by going on the below mentioned link. This game is the world's first 3DMMO open world game adopted from Naruto. This is a online Role Playing Game (RPG) which take the players back to Konoha, to make them feel the new adventure in this popular manga series. We are talking about the official MMORPG that reunites you with Naruto, Sakura, Sasuke, Kakashi and the rest of the characters which have been created by Masashi Kishimoto.
The gameplay of the Naruto: Slugfest is similar to the other games of the same genre. In order to acquire new equipment and experience you have to keep on completing the missions. Before start playing the game, the players will get to choose a character according to their choose, among the four options available there. The players can also customize their character's hair and clothes according to their choice. The experience you earn by playing the game can be used to upgrade the different skills, which obviously depends upon the typed of character that you have picked.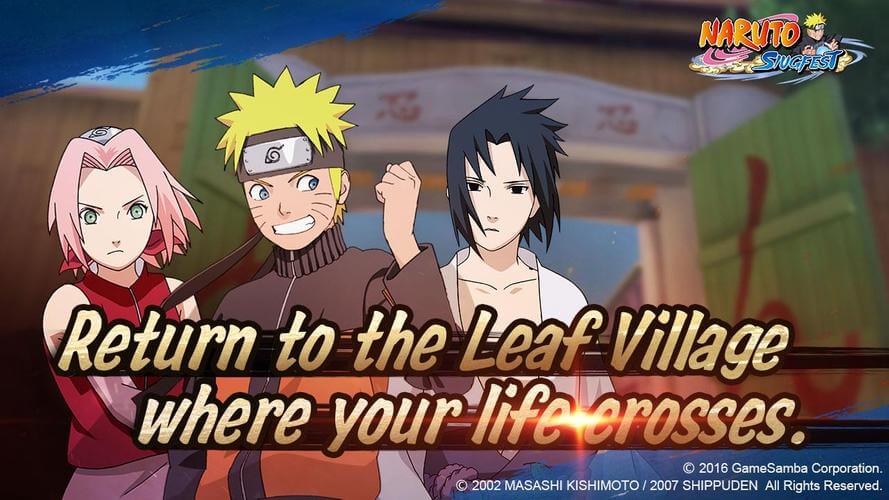 There are some levels which the game lets you complete automatically, but there some other levels as well where all of your skills will be tested. Just to perform your skills in an comfortable way the controls of this game are well-adapted according to the touchscreen smartphone. At the left side of the screen there is a virtual stick by which you can move your character, and at the right side there are some buttons which allows you attack and unleash your ninjutsu skills. There will be both day & night mode and weather change available in the game which will allow the players to experience the real Naruto World.
There are various quests, gameplay and modes are available in the game which will never let players have a dull moment in the game. Which are ranging from easy and delightful solo quests to difficult trial challenges that test players' operations and 1v1 ninja competitions to the group and guild confrontations. You can play 1v1 with anyone around the world by matchmaking or you can even invite your friends to play with you and enjoy youth in Naruto: Slugfest!
Click here to Pre-Register for the Naruto: Slugfest
Naruto: Slugfest is an excellent MMORPG game with Cinematic 3D Visuals, incredible technical design that delights you with the original voices of the characters.
Stay tuned with Mobile Mode Gaming for the latest Mobile Gaming News & Updates!