Free Fire 3rd Anniversary celebration is currently live in the game. It has started on 13th August 2020 and will go on until 30th August 2020. It has brought a lot of rewards to the players for free. Some have been made available to you, and some are yet to come.
Like every major event of Free Fire, the 3rd-anniversary event also have a peak day. The peak day of the Free Fire 3rd anniversary event is 23rd August 2020. On this day, you will get a lot of benefits and rewards from the game. Among them, the center of attraction is a free permanent character for all players.
How To Claim Your Free Character On 23rd August?
Currently, Free Fire is giving away the free character trial cards of 7 days to all the players on login. If you log in between 13th to 18th August, you can collect 'Attacker' characters' (total 8) trial cards. Between 19th to 24th August, 'Charger' characters (total 9) and between 25th to 30th August 'Scout' characters' (total 9) trial cards.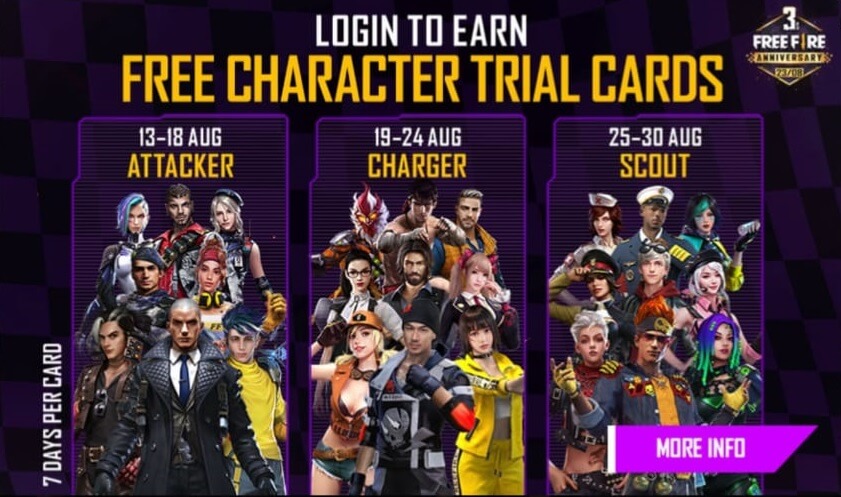 Between 13th to 30th August 2020, you get 26 characters 7 days trial cards. But on the peak day of the Free Fire 3rd Anniversary Event (23rd August), you can unlock a Free Fire character for free, and it will be in your account for the permanent duration. You have the choice to select one out of all the 26 characters. Sadly, everyone's favorite DJ Alok, is not on the list.
List of Free Characters Option Available:
Olivia
Kelly
Nikita
Misha
Paloma
Caroline
Moco
Laura
A124
Shani
Notora
Steffie
Kapella
Adam
Andrew
Ford
Maxim
Kla
Miguel
Antonio
Hayato
Rafael
Joseph
Alvaro
Jota
Wolfrahh
To be eligible to claim your free character, you just need to login on 23rd August in Free Fire. After that move to Events -> 23/8 3rd Anniversary -> Claim A Free Character! Tab and unlock your preferred free character.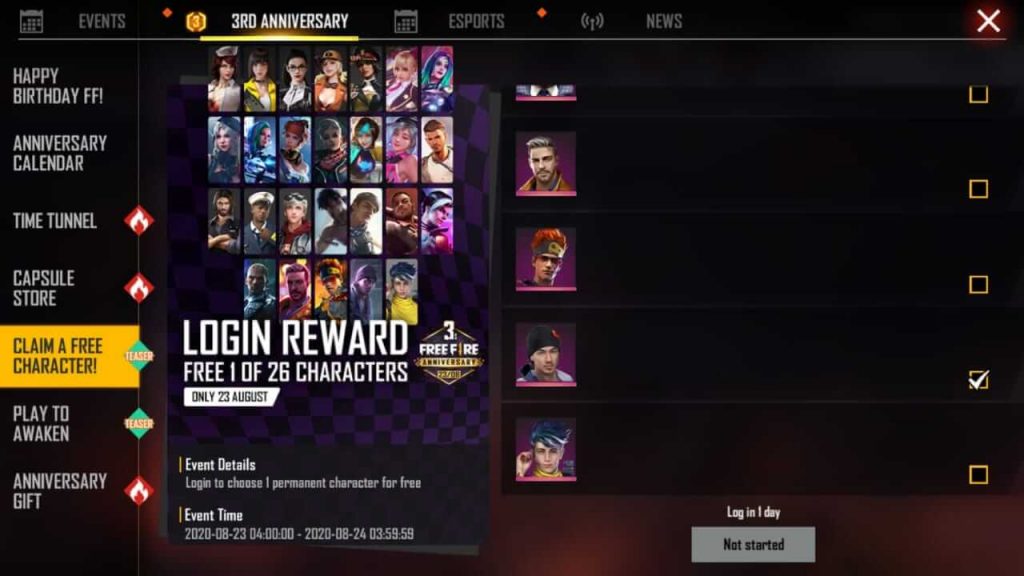 Which Character Should You Choose?
We have 4 names for you: Jota, Joseph, Moco, and Notora. If you are interested in playing mini-games like Clash-Squad, Team Deathmatch, etc. you should go for Jota or Joseph.
Jota's special ability 'Sustained Raids' restores HP every time he makes a kill with Shotgun or SMG. HP matters a lot in mini-games, and it will help you in another instant fight. Joseph's special ability 'Nutty Movement' increases his movement speed upon taking damage. It would help you in taking cover fastly as soon as the enemy start hitting. So it is also a perfect choice for mini-games.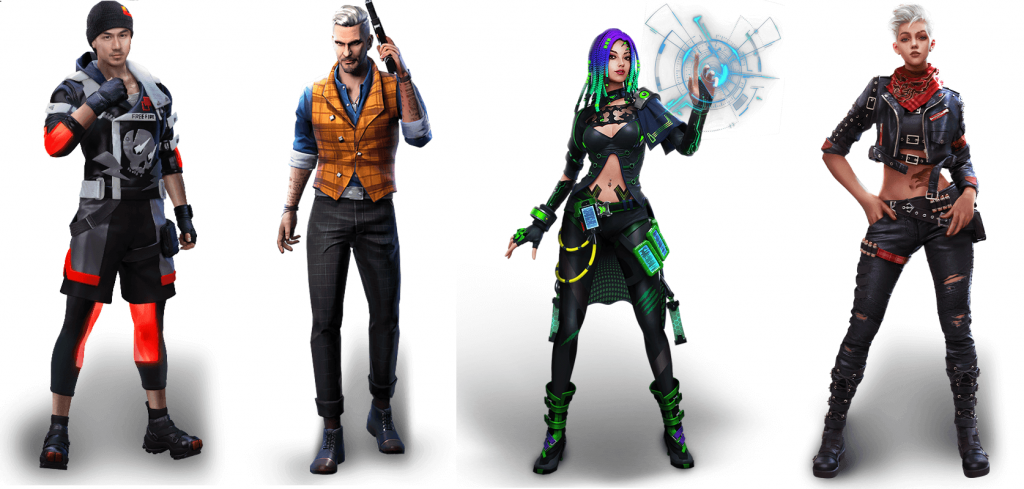 Notora is the best option for you to choose if you more of a battle royale player. Her special ability 'Race's Blessing,' restores HP of all members on the vehicle when driving a vehicle. The last name on our list is 'Moco.' She can help you in both mini-games and battle royale games. Her special ability 'Hacker's Eye' tag the enemy she shots for a few seconds. It helps your teammates in knowing the enemy's position.
You can also go for any character you deem fit. But don't make any vague decision because we do not get free, permanent characters in Free Fire every day.
Also Read: How To Get Diamonds In Garena Free Fire
Stay tuned with Mobile Mode Gaming (MMG) for the latest Garena Free Fire News & Updates