PUBG Mobile developers are coming up with unique features in Season 14. They are launching a range of events for the players so that the users remain connected and play the game. One such event which is unknown to most game players is the Oasis Fresh.

All the PUBG Mobile Players might be wondering what Syrup, Bitters, Sour Juice, and Chilly Sauce gifts are available in the inventory. These are the materials you'll require to make a cold drink in the Oasis Fresh Event.
What is the Oasis Fresh Event?
The Oasis Fresh is a gameplay event in which the player collects materials, namely Syrup, Bitters, Sour Juice, Chilly Sauce, and Ice after completing classic matches. The player then has to visit the event page and combine these materials to make a cold drink. Exclusive rewards are also rewarded upon making a certain number of cold drinks.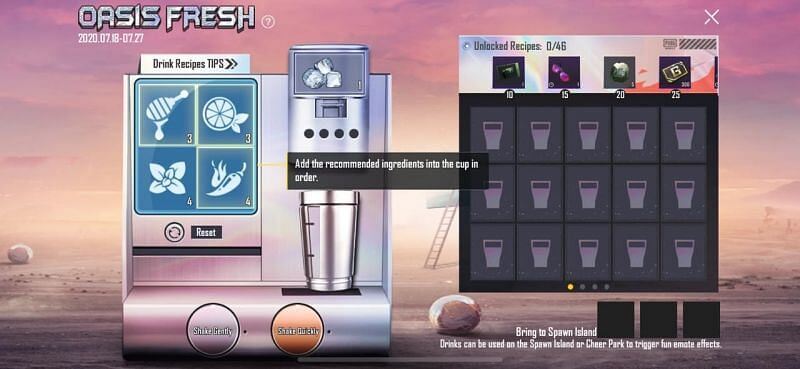 The event is live between 18th July, 2020 to 27th July, 2020. The available materials are shown in the inventory. The player can combine these materials and Shake them Gently or Shake them Quickly with or without Ice to make a Cold Drink. The Cold Drink can be used in Spawn Island and Cheer Park. After drinking the cold drink, cool effects are portrayed by the Character.
The chances of getting materials depend upon the different types of matches. There are high chances of getting Syrups after completing classic matches. Similarly, Bitters are rewarded after completing matches in Livik Map. Sour Juice is available upon teaming up with friends and Chilly Sauce when there is an increase in ranking. Ice is grabbed in the Cheer Park.
A total number of 34 Cold Drinks can be made by the player. You have to try different combinations to make a cold drink. Also, you have to try and shake them gently or quickly. Each cold drink has a different name. An exclusive gift is rewarded after making cold drinks in the multiple of 5.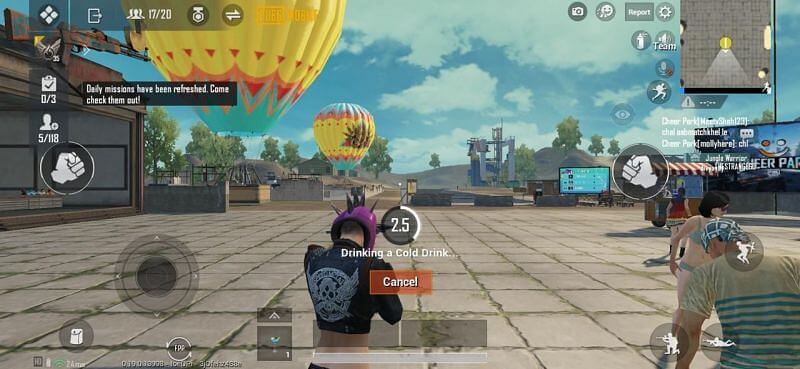 What are the exclusive rewards?
After making a set of 5 Cold Drinks, a reward is available to collect by the game. The rewards range from Crate Coupons or Scraps, Character Clothing or accessories, etc. The rewards that are available are unique.
Here are the list of rewards:
10 Cold Drinks: Supply Crate Coupon
15 Cold Drinks: Rose Sunglasses (7 Days)
20 Cold Drinks: 5 Classic Crate Coupon Scraps
25 Cold Drinks: 300 Game Gold
30 Cold Drinks: Pilot Jacket (10 Days)
34 Cold Drinks: SKS Tsunami Skin (7 Days)
So don't wait for the event to end. Enter the game and take the advantage of the Oasis Fresh event on the Events Page.
Also Read: PUBG Mobile: Free Redeem Codes Of 2020
Stay tuned with Mobile Mode Gaming (MMG) for the latest PUBG Mobile News & Updates!