Royale pass is a seasonal circumstance where players get to complete missions and challenges to avail cosmetic rewards. There are two types of passes; Royale passes for free users and Elite Passes for players who buy it. In both the passes, players get to dive in to complete daily and weekly missions to avail best goodies. At the same time, some of the challenges are exclusive to elite members to get some exclusive bonuses.
Your motive should be accomplishing as royale points as possible by completing missions and hiking up the rank. The rewards for free users are just free coins and some common skins, whereas elite members are awarded by UC, Costumes, Rare Skins, etc. on completing challenges. In this post, we will take you through Royale Pass of all seasons in PUBG Mobile that started with Season 2.
Royale Pass Season 2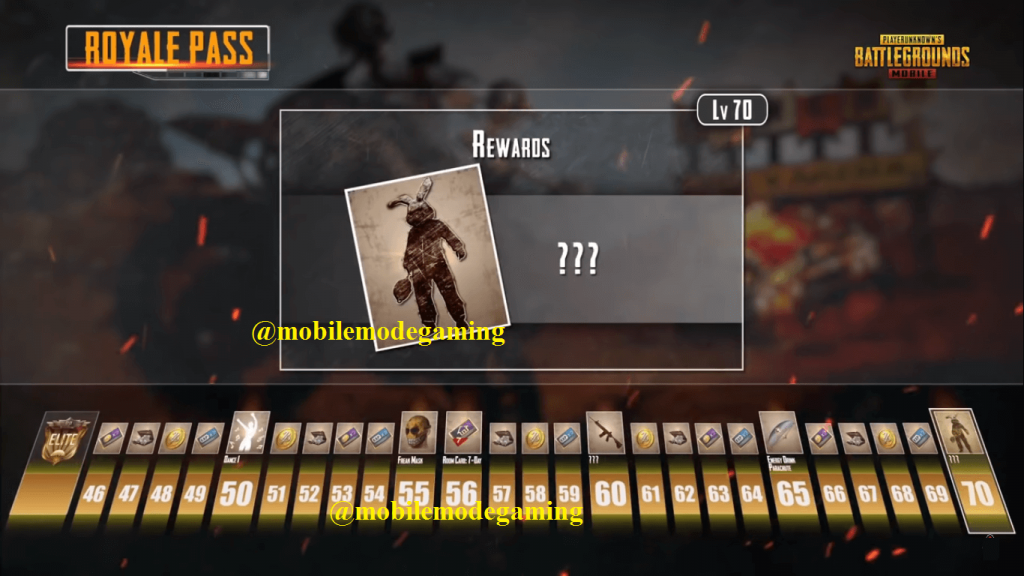 After the 0.6.0 update, two considerable features were added, namely Royale pass system and FPP mode (first-person perspective), which was a big add-on. In the royale pass scheme, you can earn royale points and increase your rank to avail of some fancy items, like skins, costumes, etc.
And FPP mode is so adorable component of this update; it's going to be a hell of a fun to play first-person shooting. Other add-ons are minizone (tight map, denser, more loot, quick match experience). Now you can see weapons and their stats in the game itself, emotes are a new feature, it's an animation to the character which you would like it.
Royale Pass Season 3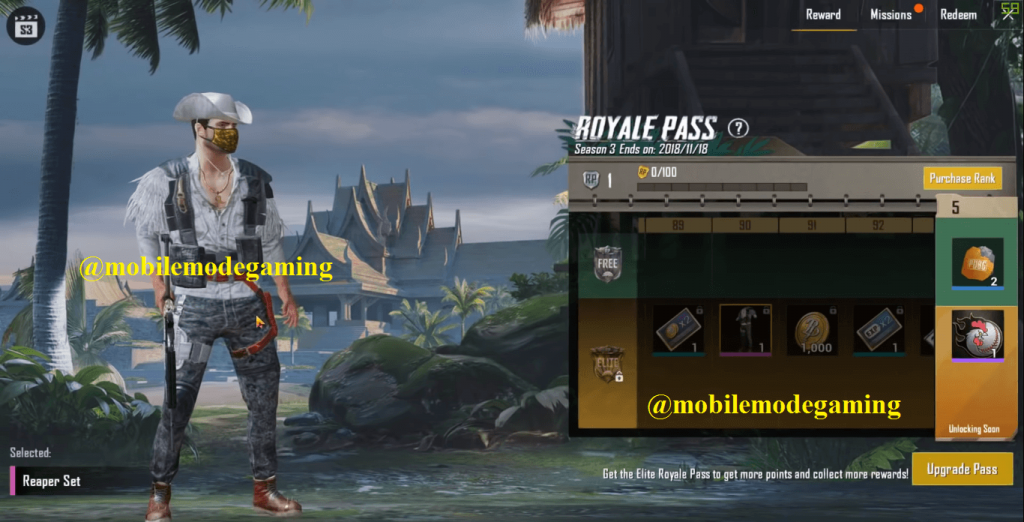 In season 3, all the ranks, royale points, and the leader board have been reset. The rewards for free players are, they can avail everyday login points, and play daily missions to gain RP. They get to dive into weekly missions as well. Elite members, along with daily and weekly missions, also get to complete some exclusive challenges for exclusive cosmetic gears.
The background in the lobby of PUBG mobile gives a hint, expecting Sanhok map in the 0.8.0 update. The war mode is excitement here, and players tend to fall for it, as it allows you to respawn quickly into the game after you die. And last but not least, Tencent has assured to take serious action against cheaters, so as to lower the number of hackers in the game.
Royale Pass Season 4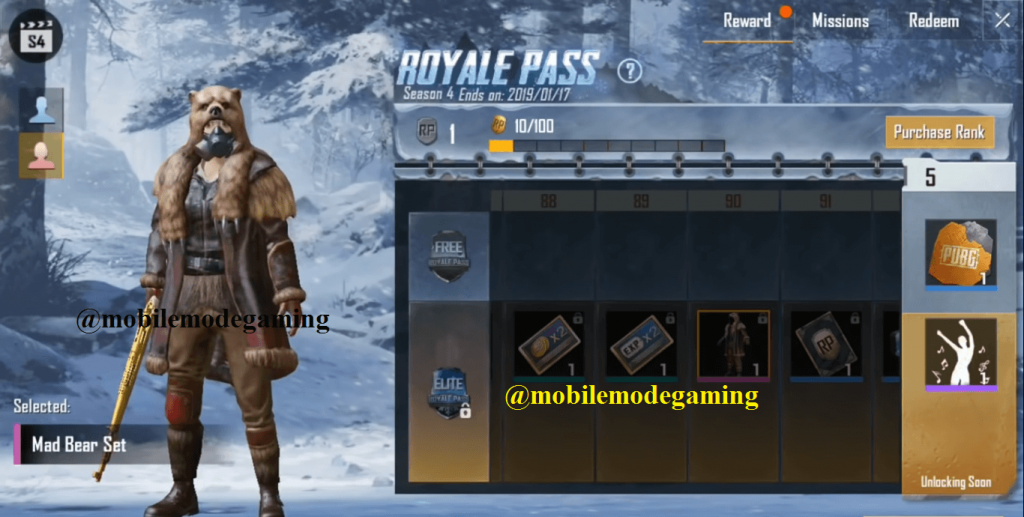 The day at last arrives, season 4, with much more excitement. As the policy of the game declares every rank, RP, tiers are going to reset on the take-off of every new season. Tencent going to be adding new winter map, new outfits which compliments the same. As usual, the royale pass will comprise daily missions and weekly challenges and can go up to a hundred RP notch.
You will find two picks, elite and elite plus, while you can benefit exclusive items from both. Players who stretch themselves to 100 level, get more deluxe rewards. Other features include the M762 rifle, redesigned weapons, airplanes, parachutes, etc.
Royale Pass Season 5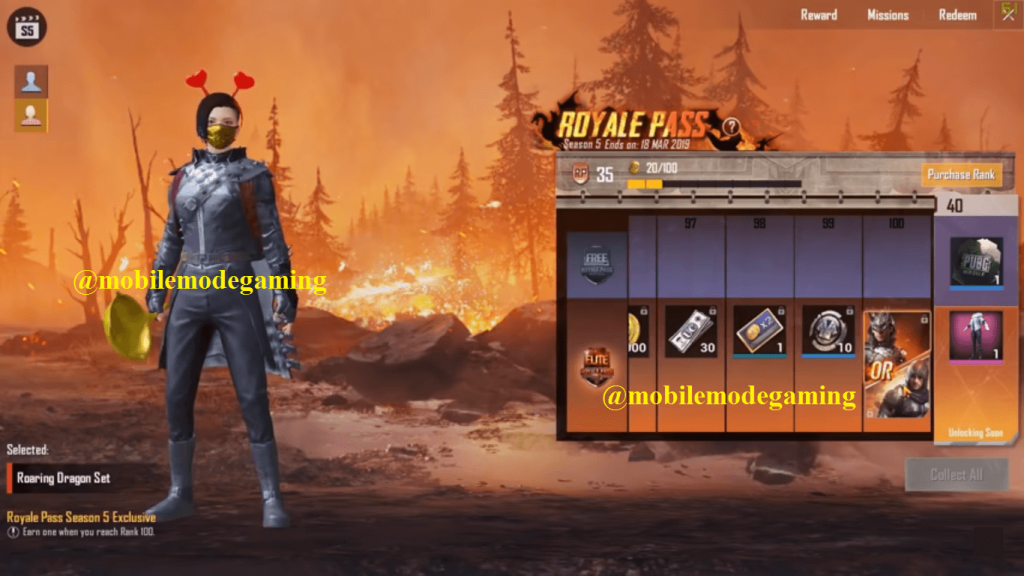 Pubg mobile 0.10.5 is here and brought back the classic voice, which can be enabled through the settings. Royale pass season 5 shows up with new costumes, skins, vehicles, etc. The new weapon MK47 mutant AR is an add-on to this update; you can access this weapon in Erangel, Sanhok, and Miramar maps. This weapon borrows 7.62mm round and shows up with two varieties of firing styles.
You are also allowed to make rooms in Vikendi maps. Other features constitute a laser sight accessory and swimming sandals. Ultimately Royale pass season 5 is going to be splendid.
Royale Pass Season 6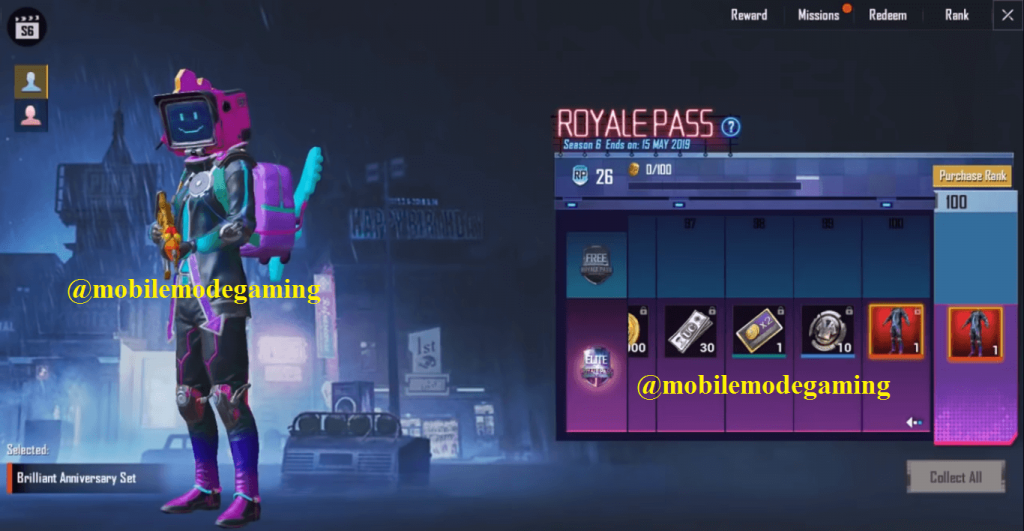 PUBG Mobile season 6 has arrived, after waiting for quite a bit. And the Royale pass season 6 is here, but don't expect too much from the free version, whereas the elite pass will emit a bunch of cool junk. The update says free Royal pass users will get a breakdown Emote, AWM skin, and some BP. You should reach level 40 RP to avail breakdown emote, and for AWM skin, you need to reach RP 60.
Some of the clothing resembles the previous collection. I don't think that this season royale pass has attained its objectives. The other add-ons are G36C is an AR that uses 5.56mm ammo and has auto and singles shot firing system, which you can access in the Vikendi map.
Royale Pass Season 7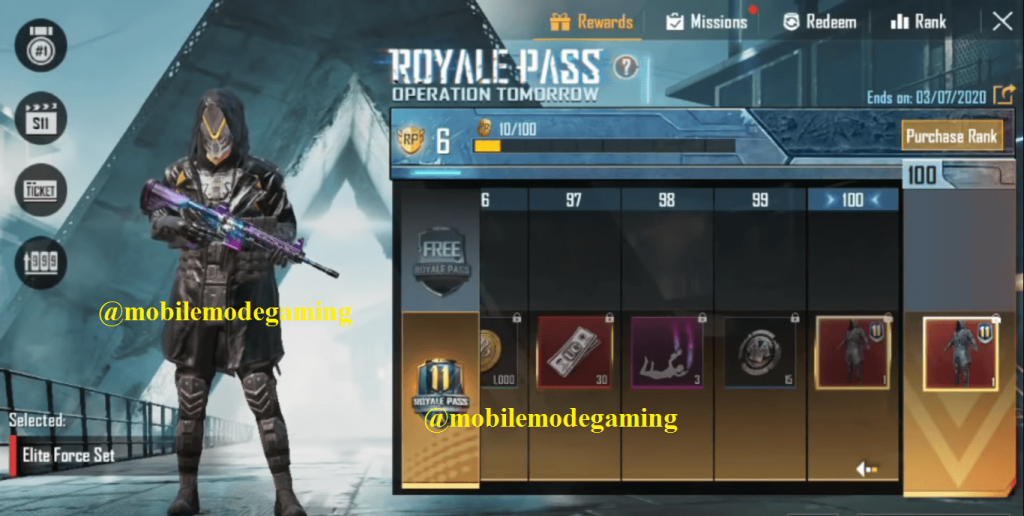 So the new royale pass season 7 is here. What's new to offer?, Royale pass outlines fresh URBAN SCAVENGER and ASSAULT SQUAD costumes, which you can recompense on attaining the max level in season 7. You may have to choose one of those two outfits, but look at that cloak damn. You will be rewarded with some other cosmetics, skins, and guns on completing the challenges on your journey to 100.
For elite members, a lot more surprises are awaiting, but not until they reach level 9 at least. The yellow parachute session, the bunny dance emote at level 15, can't be ignored either. New gun SCORPION is going to enter the club, which is going to be available on every map. Season 7 Royale pass features certainly outshine season 6.
Royale Pass Season 8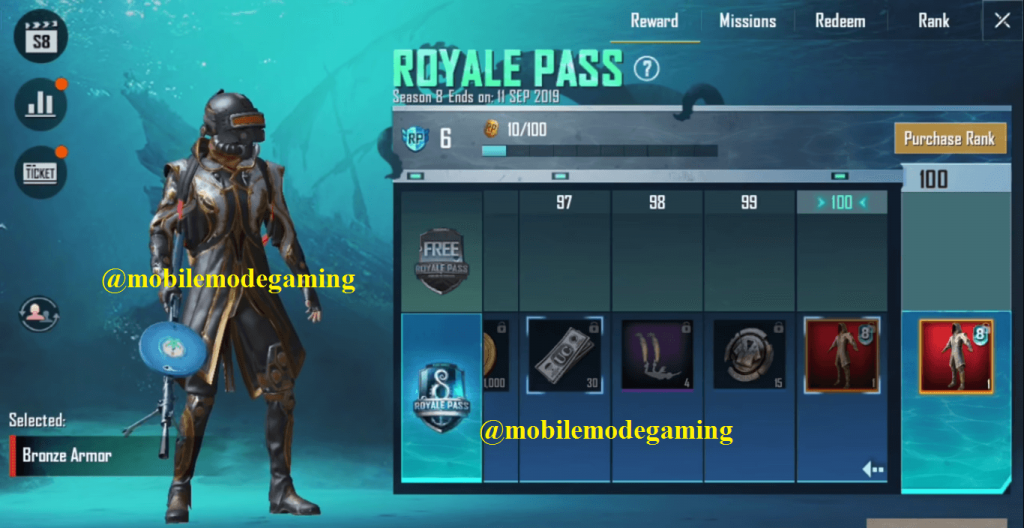 PUBG Mobile season 8 is all about an ocean theme, which resembles the pirates of the ocean. There had been strong rumors going for a long time when the update arrived, and rumors were mostly true to what they had been talking about. Those who aren't fond of Royale pass and don't want to spend any UC the royal pass exposure has been limited this time. Not many missions to finish off, can catch up with the limited rank, and eventually not as many rewards.
The Royale pass rewards according to your levels are taking off to flash like this, at level 10 Red Wild Gunman Scarf, tropical shirt when you reach level 20, flip Emote at level 40 and can expect as an essential mission reward in coming days, level 50 serves your parachute, and white M16 skin and you can max out the entire Royale pass rank only to 60.
When it comes to Elite members, it doesn't matter if you go for the Elite or Elite Plus, you will be served by the same bundle of rewards. The rewards are going to look like this: the first and the foremost squad leader costume, scarlet horror Scar-L and similar cap at level 5 spawn island emote at 15, UAZ vehicle skin at 20, scarlet horror parachute at 35, deep-sea scarlet horror airplane skin at 40, dodge emote at 65 level. The list goes on till you reach 100 level, you will be going to have fun as you have never done before.
Royale Pass Season 9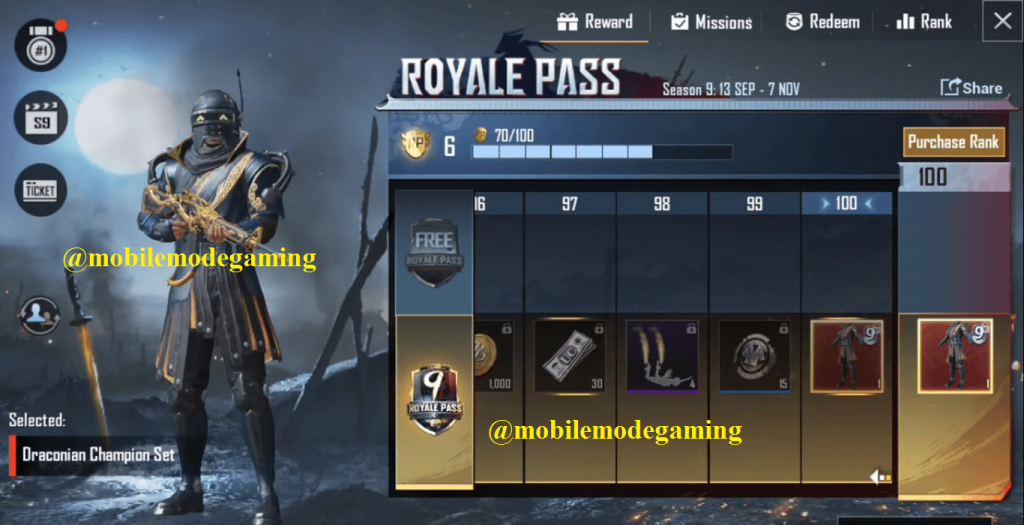 The PUBG Mobile season 9 is here, and the Royale pass season 9 brings a lot of bonuses. The fresh Royale pass theme is established on 'Japanese warriors, Ninjas, and Samurai.' The royale pass includes some of the cool elements, infected grizzly M249, the observer set, and cover, infected grizzly Dacia, draconian champion bundle, etc. Royale pass season 9 is overwhelmingly distinctive.
Royale Pass Season 10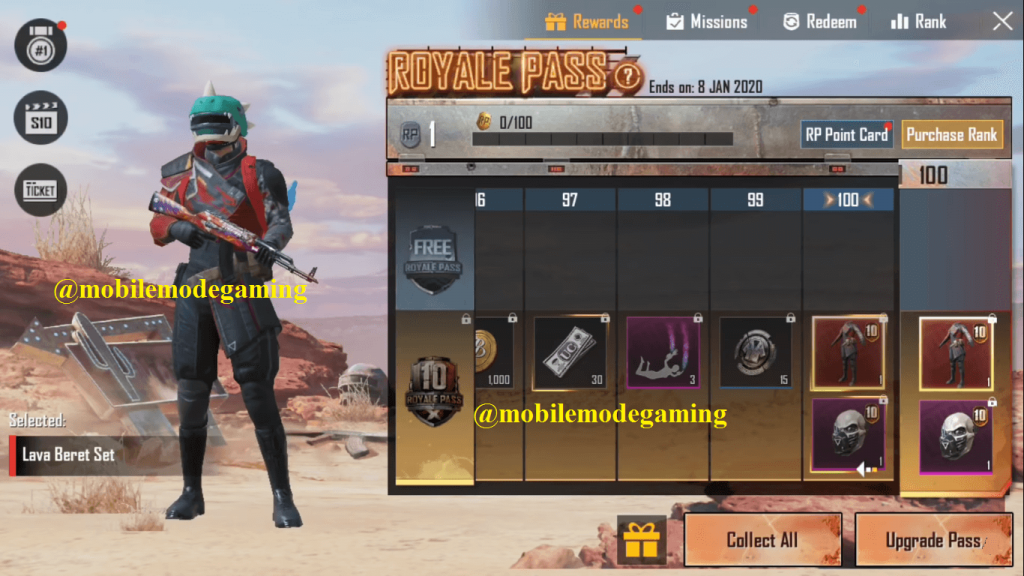 Royale pass season 10 is finally here and going to be based on 'Fury of the wasteland' theme. So you can expect a lot of rewards established on mad Max Fury Road, as you rank up in the game. The elite pass will cost you 600UC, whereas elite plus will cost you 1800UC. You will see a season 10 parachute skin. You will also overlook new costumes and a new skin for M249.
You will uncover tons of emotes, avatars, the fury of wasteland themed weapon skin for M416, and you will love to uncover samurai-styled pan skin as well. There are some additional features to look up, apocalypse guardian bundle, will experience desert trooper set, and snowflake girl set, no way royale pass season 10 could disappoint you.
Royale Pass Season 11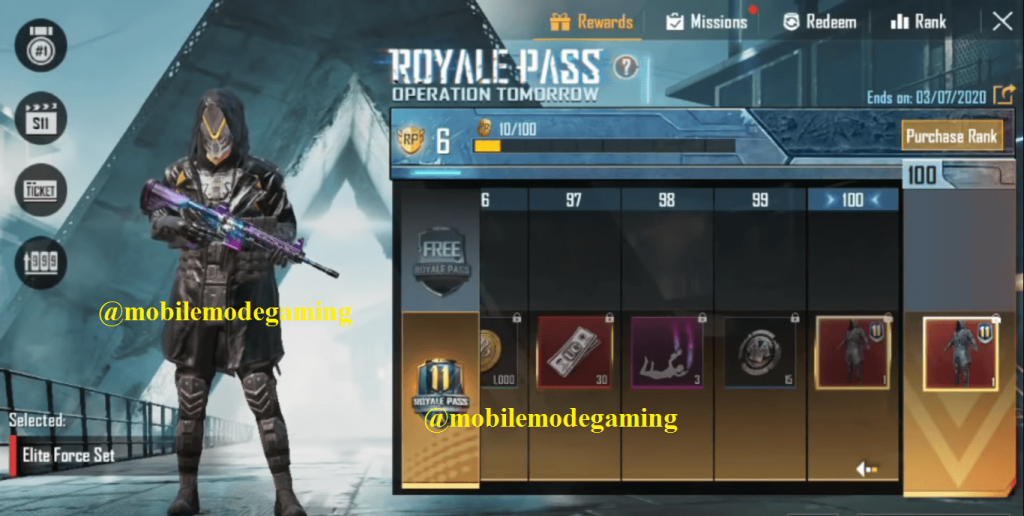 PUBG Mobile season 11 is taking off to be named as 'operation tomorrow,' and the costumes and ski; tore going to be themed on Cyberpunk. Like all other seasons, Royale pass season 11 is comprised of new costumes, skins for guns, parachute, vehicle etc. Rewards on ranking up comprises of red and black costumes, to avail this, you have to catch up with a gold tier, and you will reap resembling masks if you reach platinum.
You will uncover a fresh MK14 skin when you reach the diamond and many vehicles skins as well. Attain ace tier and grab the season 11 parachute skin, and score season 11 avatar frame by reaching out to conquerer tier. You can also witness 'pummeler' styled M416, M762, pan, and helmet skins. Don't skip scoring season 11 AWM and DP-28 skins either. There is a new DOMINATION MODE, which makes season 11 special.
Royale Pass Season 12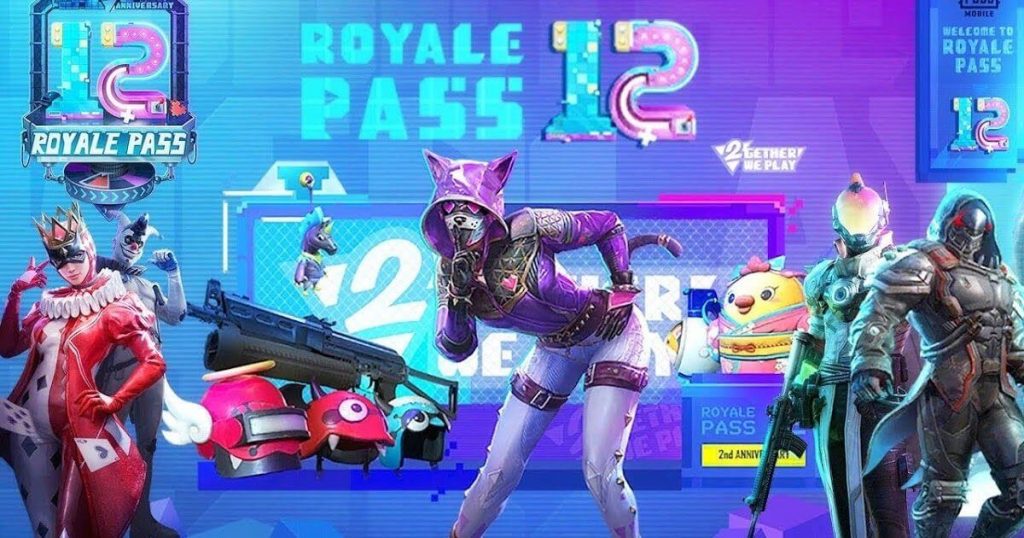 The Royale Pass season 12 has arrived, and its theme is going to be based on PUBG Mobile's second anniversary. All royale pass free users will get to complete daily and weekly missions to avail of new goodies. And Elite members will be treated with some exclusive cosmetics when carrying out missions and challenges.
At RP 1 you will be ready to unlock wasteland soldier bundle, at RP 20 Mr. unicorn ornament, at RP 5 wasteland soldier headgear, at RP 25 Cupid Helmet, anniversary celebration Dacia at RP30, season 12 avatar frame at RP 45, Foxy maiden bundle at 50, lions majesty pan at RP 70, anniversary revelry avatar season 12 at RP 75 and last but not the least Hardened veteran set and Phantom catgirl bundle at RP 100, so Royale pass season 12 is going to be wicked.
Royale Pass Season 13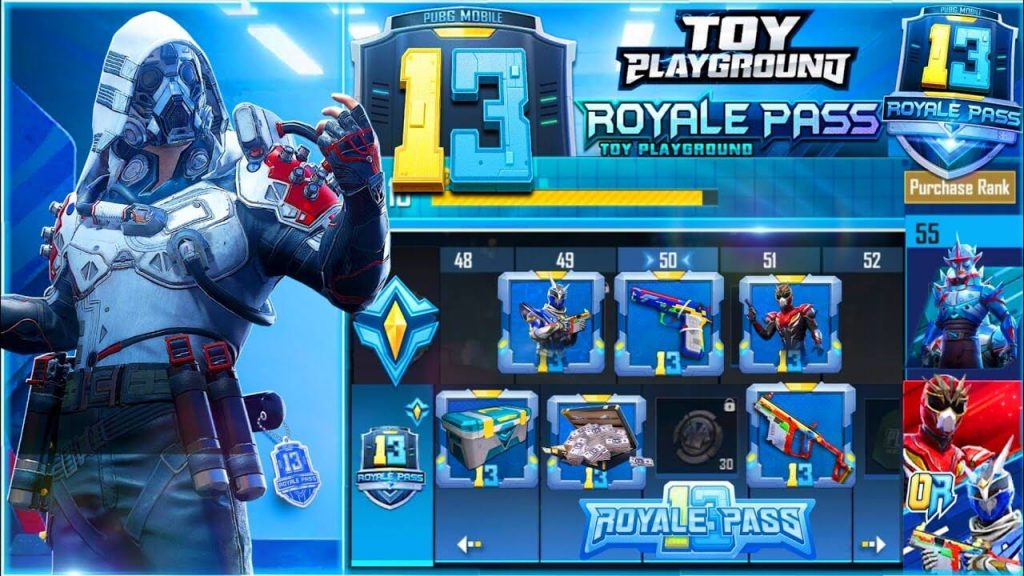 The PUBG Mobile season 13 has arrived, which exhibits the Royale pass season 13 as well. All the ranks have been removed and reset to default. The headline of this season is 'Toy Playground,' and going to be submitting power rangers themed goodies. The new costumes resemble power rangers for sure, and some skins as well.
Here are some rewards on the footings of your RP: Rock and roll Aug can be accessed at RP 1, puppet agent mask at RP 5, Ice Ranger Smoke Grenade at RP10, foxtrot emote at RP20, Rock And roll set at 30 RP, Rock and roll parachute at 30 RP, Dynamic wave emote at RP 35, Rock and roll helmet at RP 40, Fire ranger and ice ranger bundle at RP 50, Puppet agent set at RP 70 and resembling mask at 75 RP, and Nebula hero set at RP 100, no wonder why this season had been on such a hype for so long.
Royale Pass Season 14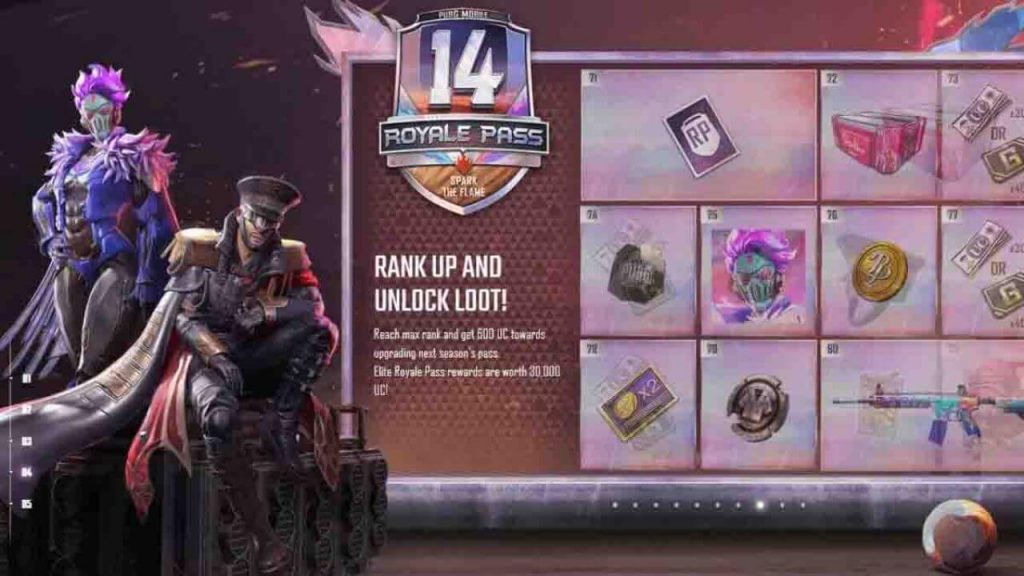 The new Royale pass season 14 has given rise to Royale pass prime subscription service, which is very exclusive to android users for now. Season 14 is based on 'Spark the flame' theme and will deliver goodies likewise. There are two prime subscriptions, prime and prime plus. And are getting on to be monthly, quarterly, or yearly plans.
There is a new map LIVIK in the latest update, which is a beta edition. The prime membership incorporates many cosmetic rewards, skins of guns, airplanes, and vehicles. The Royale Pass season 14 is still alive; complete all the missions available to avail the best dividends.
Also Read: PUBG Mobile: Free Redeem Codes Of 2020
Stay tuned with Mobile Mode Gaming (MMG) for the latest PUBG Mobile News & Updates!