Talking Tom is one of the sensational android games that has released in the mobile platform. It is now celebrating the 10th anniversary with a challenge named "POK-A-TOM".
The game has garnered 13 billion downloads so far since its inception and it is definitely a moment to celebrate. It released in July 2010. To mark this special occasion the developer Outfit7 Limited has introduced this event named "POK-A-TOM".
This event takes place for 10 days starting from 20th July until 30th July. The challenge is that whether all the players can cumulatively poke Tom for about 10 billion times in these ten days. The total number of pokes registered is shown in the digital "POK-A-METER" on the Outfit7 website.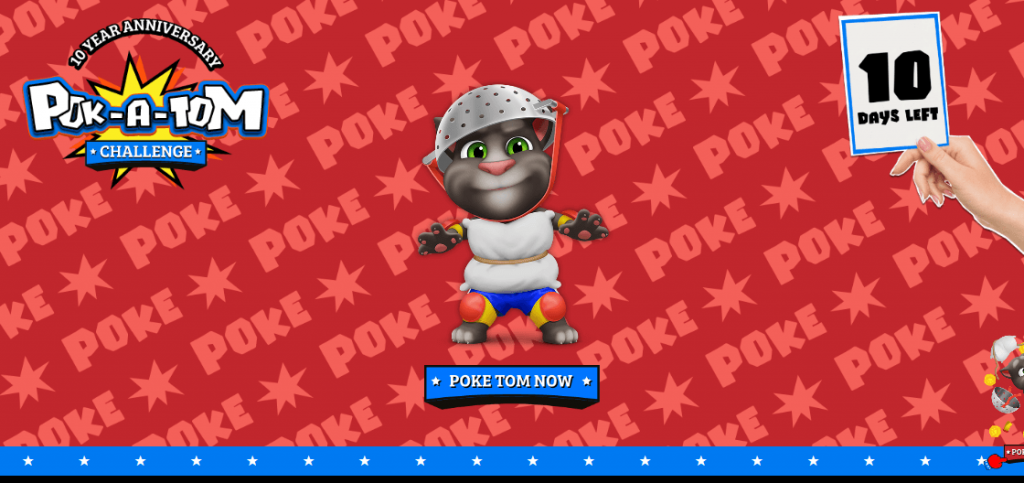 So if players achieve the target then all the players will be receiving an in-game coins. If players can garner more pokes bigger is the reward. This challenge is open on the Talking Tom games such as Talking Tom Cat, My Talking Tom, My Talking Tom 2, and My Talking Tom Friends.
So are you ready for the challenge ?. Head to the Talking Tom games mentioned above and have fun poking your favorite cat buddy.