PUBG Mobile has officially started the Registration for PUBG Mobile Open Club (PMCO) Fall Split 2020. If you are facing some difficulty in the Registration of the tournament, don't worry; we are here for you. Today in this post, we are going to share with you every detail about this upcoming PUBG Mobile eSports tournament including the registration dates, schedule, and even the prize pool.
Open Tournament
PUBG Mobile organizes the Club Open tournament twice a year, each with a prize pool of $1,000,000. This tournament is open for everyone, and every person who plays PUBG mobile can take part in this tournament. Also, the PMCO tournament is free of cost, so even if you are playing for fun or you simply want to give it a shot, then also you can take part in it without any cost.
Schedule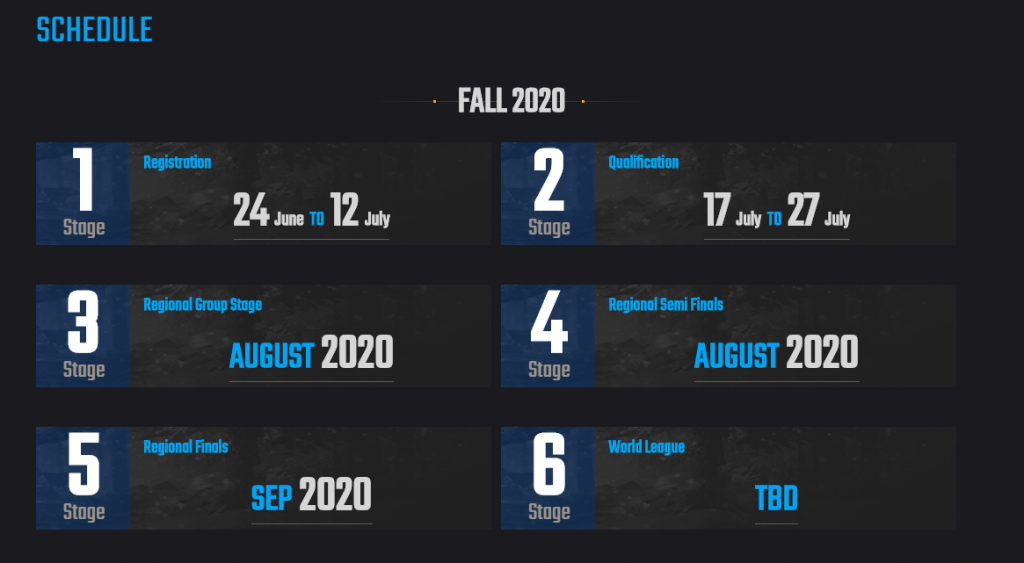 Registration: You can easily register for this tournament between 24 June – 12 July
Qualification: Now all the registered teams will go head-on to make a spot for themselves in the next round i.e., Regional Group Stage.  Qualifications for this stage will take place between 17 July – 27 July.
Regional Group Stage: The teams which get qualified from the Qualification round will compete in this round, it will take place in every region. In August 2020 the players will compete against each other.
Regional Semifinal: The qualified teams from last round will compete in this stage to take there place in Regional finals. It will also take place in the month of August.
Regional Final: Now, teams that have made their spot in regional finals will compete for PMCO Fall Split 2020 World League. The Regional Finals will take place in September 2020.
World League: The last stage where all the teams which are qualified from different regions will go against each other, and we will get our PMCO Fall Split Champions.
Registration / How to Register:

The Registration for this tournament has already started from 24 June and will end on 12 July, and Follow these simple steps to take part in the tournament:
Register for PMCO Fall Split 2020 via the Registration Form available on Official Pubg Mobile Website.
Play in-game qualifier, which will begin from 17 July and end on 27 July.
Now the Top 16 Teams will be qualified, and Pubg Mobile Officials will directly contact them with further details.
Prize Pool for Pubg Mobile Club Open Fall Split 2020

The total prize pool for this tournament will be 1 Million Dollars, and this amount will be divided between winners, runner ups and other teams. The exact break-up of prize distribution will be available soon.
Things to Know Before Registering for Pubg Mobile Club Open:
No Changes will be allowed once you have registered your team, so double-check everything before you submit the registration form. Even typing the wrong character will get your disqualified.
You should have attained the age of majority to take part in this tournament as per your country rules. (Normally it is 18 years).
Every team members rank should be platinum or above at the time of Registration.
The minimum players are 4. However, you can register up to five players. One player will be a substitute and can only play if one of the leading players is not available.
Tablet and Emulator players will be disqualified directly.