Chess is one of the most played board games of all time. And understandably so. The game not only keeps you entertained but also keeps you focused and boosts your brain activity. Studies have proved that playing Chess develops not one but both sides of the human brain, and it even reduces the risk of dementia and combats its symptoms. But even then, some people don't see the appeal of Chess. But it seems like Noodlecake Studios Inc has taken upon themselves to make Chess entertaining for such people.
Really Bad Chess, Noodlecake Studios' latest creation, is a Chess mobile game, but with a twist. Instead of featuring the usual chess pieces, as the traditional Chess does, Really Bad Chess switches things up by giving you a different set of pieces every time you play! You could end up with a row of five Bishops and a Knight with a couple of pawns while your opponent has even weirder pieces.
One great thing about the game is that its Artificial Intelligence (AI) doesn't learn as you play against it, rather the quality of the pieces you get worsens. Initially, you get much better pieces than the AI and have a good chance of winning. But as you win matches, the balance starts shifting and the game starts becoming more difficult, thus making the game even more addictive.
You can improve your skills by playing in the Freeplay mode of the game. The free version of the game lets you play against an Artificial Intelligence (AI) in Ranked, Daily, or Weekly Challenges. And with a single in-app purchase, you can remove the ads, add soothing color-palettes and unlock the Versus mode where you can compete against your friends locally.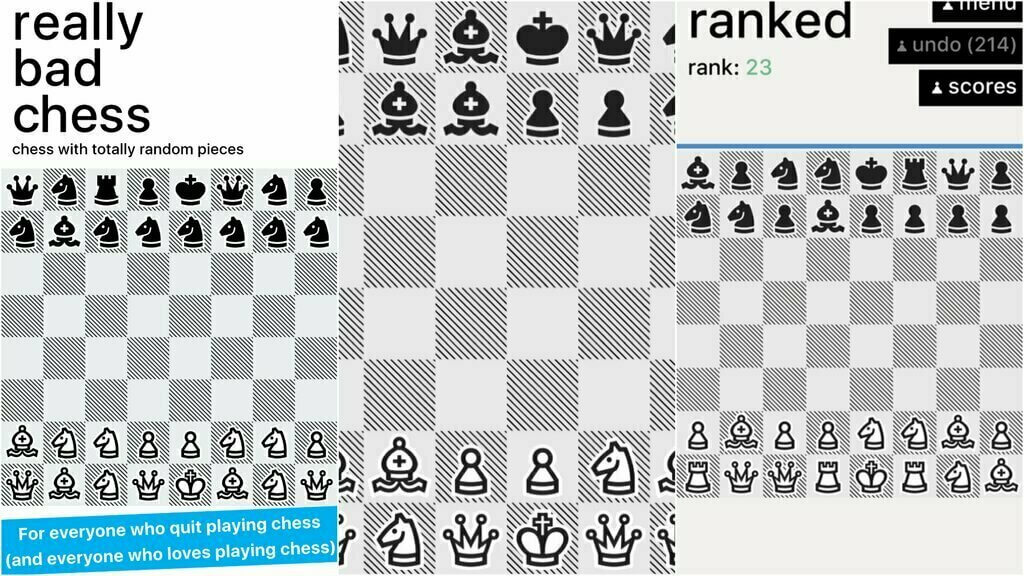 So, if you really think about it, Really Bad Chess isn't actually bad. Rather it's a quirky and addictive game that's almost as good, if not better, as our good old regular Chess. Really Bad Chess is available for download via Google Play and Apple App Store.