Call of Duty Mobile has brought a new SMG into its arsenal called the Cordite. It is a part of the mid-seasonal updates, which also includes the tactical Cryo Bomb. Apart from the fans drooling over the legendary Cordite Zero-G from the premium Lucky Draw, CoD Mobile has got it covered for Free-to-players with a free Cordite as well.
CoD Mobile is not making the same mistake this time as it did with the HBRa3, which is probably the best Assault Rifle in the game according to experts. Unfortunately, it was only a paid option and the community has been complaining ever since about how unfair the advantages are for premium players. But the good news is that we are getting the HBRa3 for free in June.
The Cordite SMG is available as a reward after you complete the "Gunslinger" seasonal challenges, which also offers other Epic skins and the valuable Battle Pass XP. Here's a list of tasks and its respective rewards after you complete each of them:
Kill 30 enemies in 1v1 Duel Mode – ASM10 Desert Snake, 2000 Battle Pass XP
Kill 15 enemies with Shotguns in 1v1 Duel Mode – BY15 Ashen Viper, 2000 Battle Pass XP
Kill 15 enemies with Sniper Rifles in 1v1 Duel Mode – DLQ33 Ashen Viper, 3000 Battle Pass XP
Win 5 Matches in 1v1 Duel Mode – BK57 Ashen Viper, 4000 Battle Pass XP
Kill 10 enemies with Pistols in 1v1 Duel Mode – MW11 Ashen Viper, 4000 Battle Pass XP
Win 10 Matches in 1v1 Duel on Saloon Map – Cordite, 5000 Battle Pass XP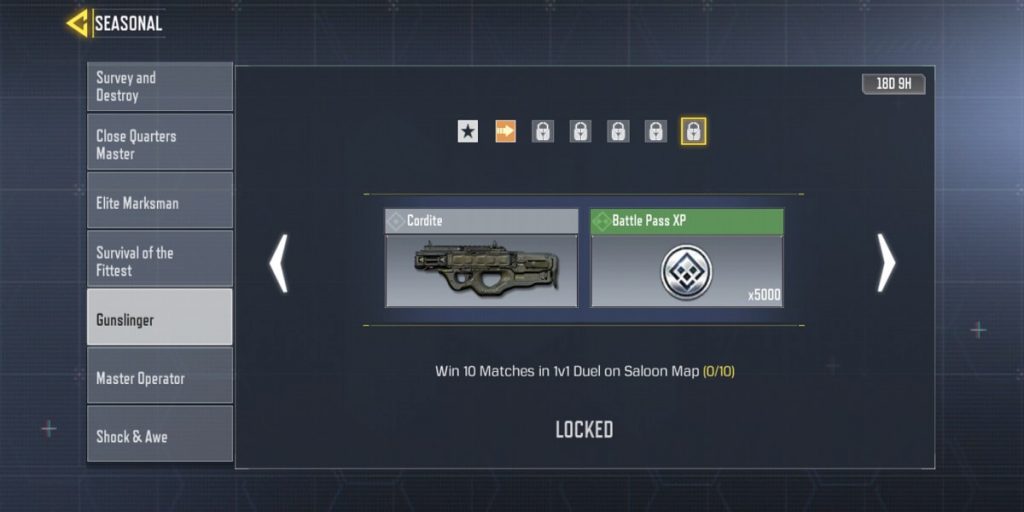 The Pharo which was introduced in the first half of season 6 has been claimed to be the best SMG, until now. With the Cordite on the list, both the weapons have been fighting it to the top spot of the best SMGs in the game. Cordite is fully automatic with the highest fire rate among RUS and PDW and has a low recoil with great mobility, making it a really versatile choice.
Call of Duty Mobile is available on iOS and Android.
Also Read: Call of Duty Mobile To Finally Get Free HBRa3 Gun