Free Fire has got a new event called 'Roll The Dice' in the game. Free Fire Roll The Dice Event is live in the game from 30th April 2020 to 6th May 2020, and has brought the first-ever skin of M1887 gun to the game called 'Tropical Parrot.'

But just like the various other events of the game, Roll The Dice Event also requires you to spend diamonds to get the rewards. But the skins look so amazing that you won't regret to spend diamonds on it.
As the name itself suggest, in Free Fire Roll The Dice Event, you need to Roll a Dice to get various rewards available in the event. But you do not get to roll the dice for free. Rolling the dice costs you 20 Diamonds for one time and 90 Diamonds for five times.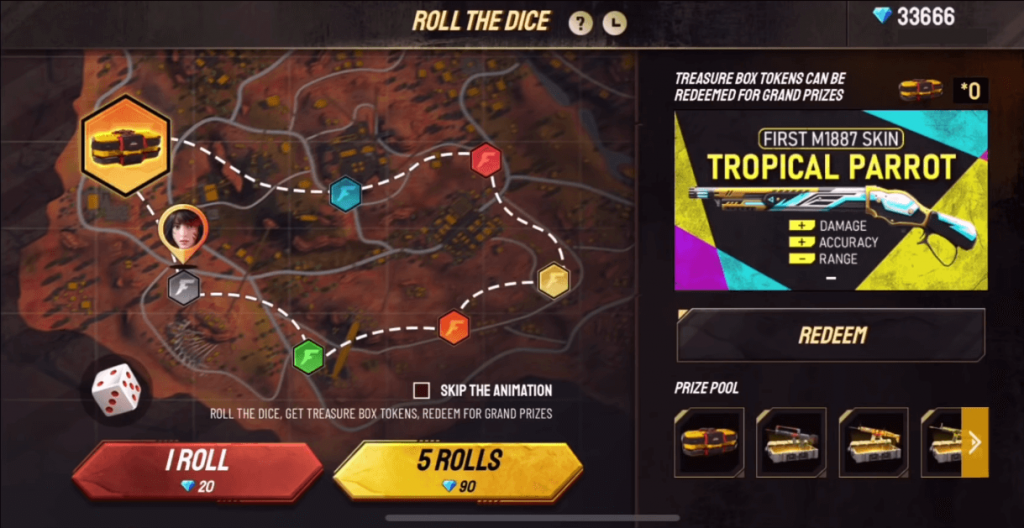 There are seven tiles in the event on which you land by rolling the dice. Out of seven, six looks like a gem of different colors: Black, Green, Orange, Yellow, Red, and Blue. And the 7th tile is a Treasure Box, landing on which gives you a Treasure Box Token.
All of the tiles are placed in the Kalahari Map in a circular form. As you roll the dice, as per the number appeared, you move to the next tiles, starting from the Black. If you land on the Treasure Box, you get a Treasure Box Token. Otherwise, you get any small random prize for rolling the dice.
Using the Treasure Box Tokens, you can redeem the various rewards available, as mentioned below. Apart from the tokens, you also get a prize for each roll such as Gun Box, Pet Food, etc. But if you are lucky enough, you can get the Treasure Box Token from the random prize for each spin.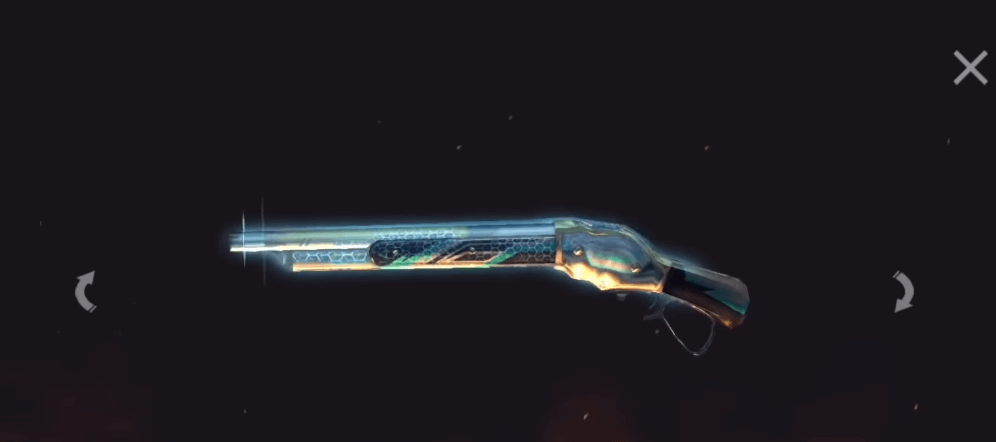 The Rewards Available To Exchange With The Treasure Box Tokens Include:
Mr. shark Backpack – Treasure Box Token x 1
Moon Flip Emote – Treasure Box Token x 2
Golden Merc Jeep Skin – Treasure Box Token x 3
The Tropico Rumble Bundle – Treasure Box Token x 3
The Adventure Dawn Bundle – Treasure Box Token x 4
Tropical Parrot M1887 (Grand Prize) – Treasure Box Token x 5
To get the grand prize, Tropical Parrot M1887 Skin, you need to reach at the Treasure Box tile for five times. But if you could not manage to get five tokens, you can also go for other rewards.
So start rolling the dice to get you M1887 Tropical Parrot Skin before the event ends on 6th May 2020.