As told earlier, today Dragalia Digest has been released for Dragalia Lost and it has revealed a Monster Hunter Collaboration event among other things. The collaboration event is scheduled for the end of January 2020, so right now there isn't much information available. But at least we know Rthalos will be made available.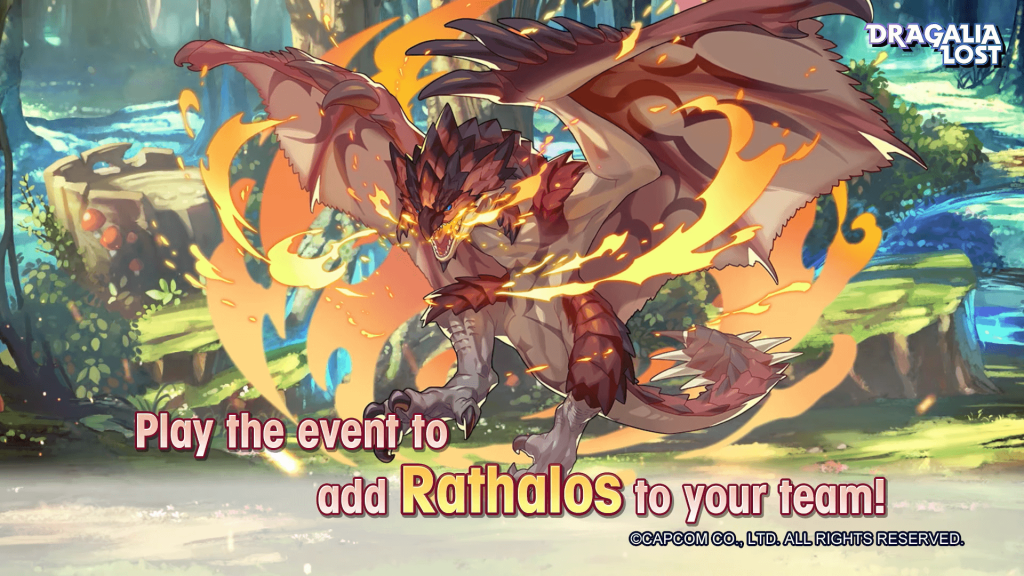 Some new content mentioned during the anniversary Dragalia Digest has also been revealed: The Agito Uprising! The first boss is Volk, who is Wing elements. New 6-star weapon to craft which cannot be dismantled. To craft the new Agito weapons, you need to have crafter certain weapons, their skills will be upgraded accordingly.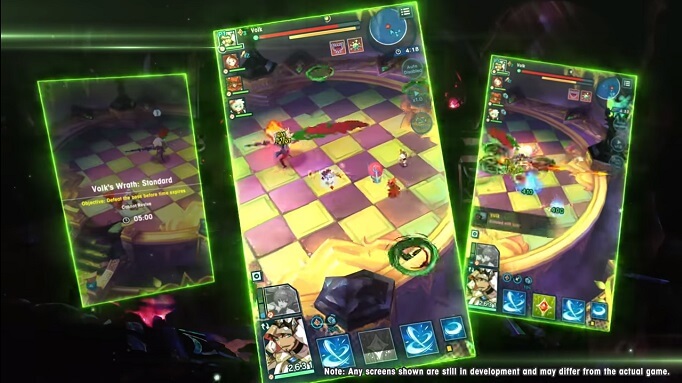 the sixth Mana Circle will also be available for certain characters!
5-star Adventurers
4-star Adventurers
3-star Adventurers
Aoi
Renelle
Alain
Joe
Xania
Aurien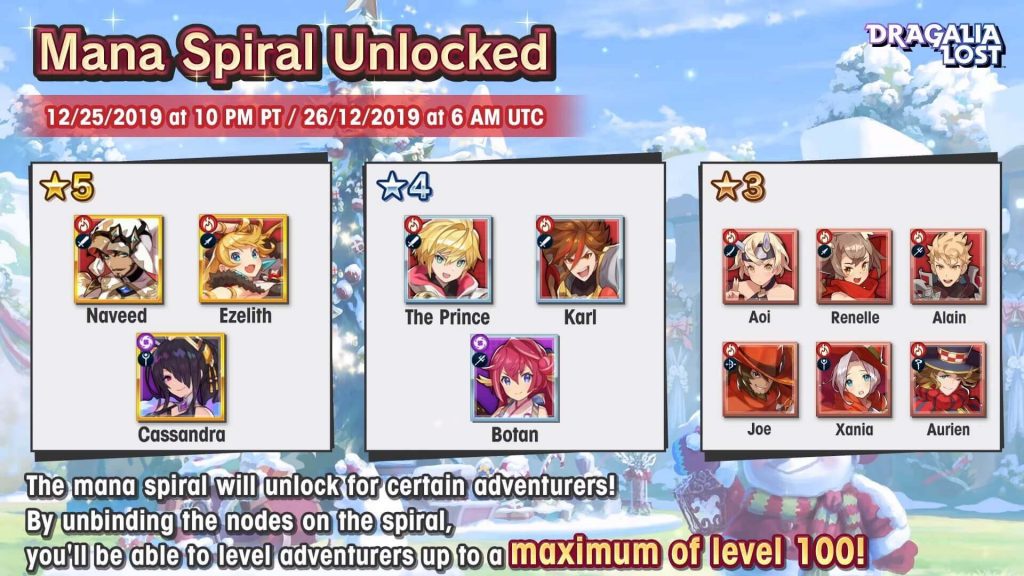 There will be a special Prize Showcase summon which offers various levels of prizes to obtain. But Tenfold summons will always guarantee bronze prizes. There will be free tenfold summons, up to 80 times for free, from 25 December 2019 10 PM PT – 2 January 2020 9:59 PM PT / 26 December 2019 6 AM UTC – 3 January 2020 5:59 PM UTC.
Platinum Prizes: Sunlight Stone x 1, Damascus Ingot x 1
Gold Prizes: Golden Key x 2, Sunlight Ore x 4, Twinkling Sand x 7
Silver Prizes: Damascus Crystal x 2, Sunlight Ore x 2, Champion's Testament x 2, Moonlight Stone x 2
Bronze Prizes: Twinkling Sand x 2, Damascus Crystal x 1, Sunlight Ore x 1
Fifth Prizes: Steel Brick x 2, Consecrated Water x 40, Exquisite Honey x 1, Ethon Ashes x 3
Sixth Prizes: Succulent Dragonfruit x 40, Honey x 2, Ethon Ashes x 2, Rupies x 70,000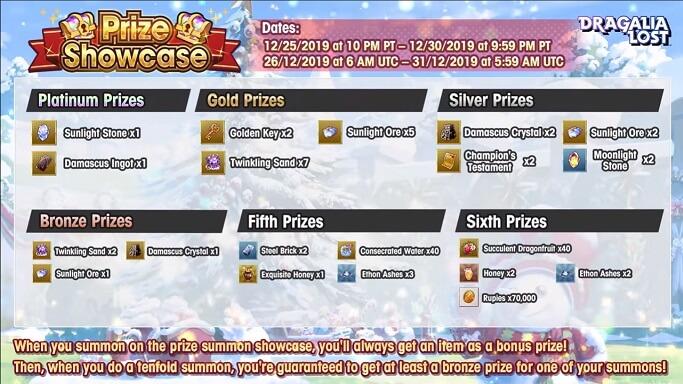 A special event called 'A Sweeping Retrospective' will also commence and offers you rupies and materials up for grabs for a limited time. Luck Letters, stickers and more are also available which provides you even more rewards.

As a new year gift, some new characters have also been introduced in the game which you will be seeing in New Year's Tiding: A Clawful Caper. The characters are as following:
Chitose
Hanabusa
Daikokuten
Nobunaga
Mitsuhide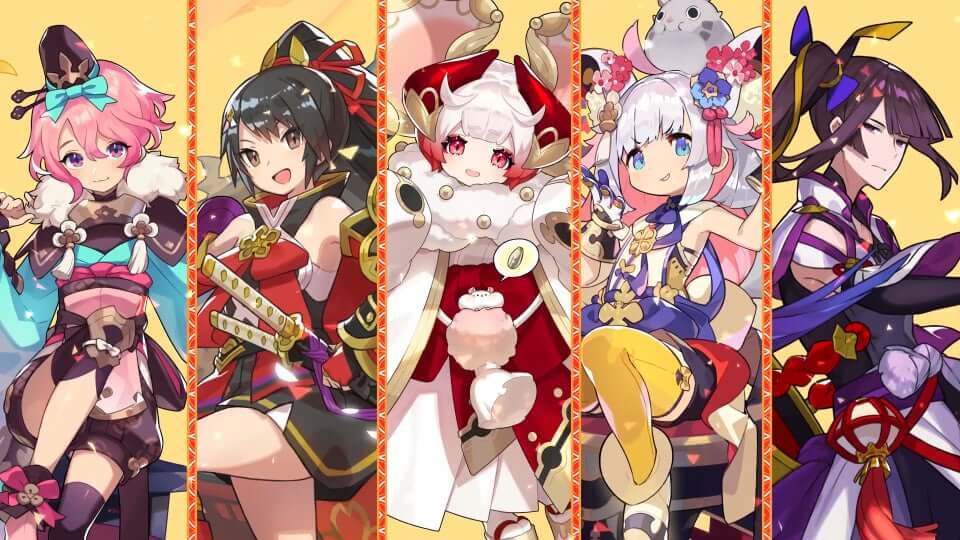 Some login rewards have also been added for the new year. Apart from that, you can grab the following rewards as well:
Tenfold Summon Voucher x 2
Exquisite Honey x 20
Blessed Ethon Ashes x 20
Wyrmite x 1200
Champion's Testament x 2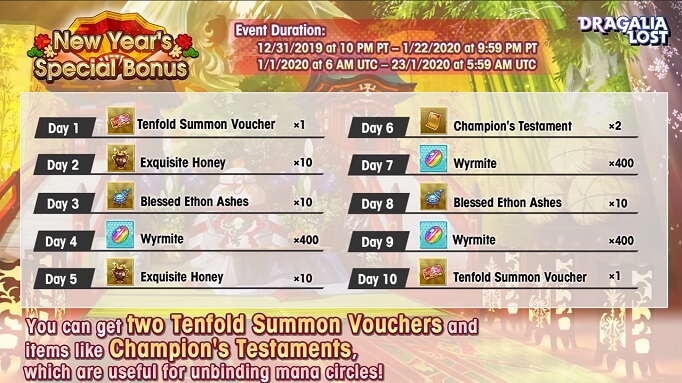 Some paid packs have also been added. Platinum Showcases likewise will go live which depending upon your choice guarantees you either a 5-Star Adventurer of Dragon and it can be pulled in up to 3 times.

Some other changes made through 1.15.1 update are:
Changing teams when selecting co-op rooms
Shop layout adjustments
Expert Difficulty Void Battles
Repeat feature in Facility events
Players will also receive 500 x Wyrmite, 30,000 x Eldwater and 3 x Champion's Testaments for Dragonyule!
To immerse in the fun world of Dragalia Lost head towards the iOS App Store or Google Play Store.
Also Read: 10 Best Upcoming Mobile Games of 2020 You Should Keep An Eye On
Stay tuned with Mobile Mode Gaming (MMG) for the latest Mobile Gaming News & Updates!