Confused by the heading? Well, don't be – because its simple. Choker is an upcoming Mobile strategy game that connects the 21st-century poker with the ancient game of chess. Choker is developed by Queenside Games and is all set to globally release on 19th November 2019.
Choker brings the bluff, street smarts and unpredictability of poker into the pure skill and knowledge-based game of chess. The result is an unfathomably deep game – a Mixed Mind Sport which requires new divergent skills.
How To Play Choker?
BET: Start with just a King and a Pawn on the chess board! Then bet on the five cards depicting your additional chess pieces. This is the time to keep cool, play the odds and outwit your rival.
PLACE: Place your chess pieces in special drop zones on the chess board. You'll need a winning game strategy. Defend your King but be ready to strike.
CHESS: Once all your pieces are on the chess board – it's real chess! Outplay your opponent and win the pot before time's up!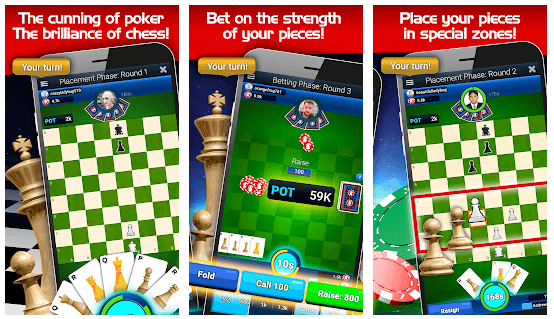 However Choker will globally release on 19th November, but it is already available to play in the Beta version. You can download and play Choker now via Google Playstore or Apple Appstore.