Hello Mobile Gamers, as we told you in our earlier posts about the pre-registrations and release date of the Mario Kar Tour, Today the time has come and Nintendo Co. Ltd. has finally released its new mobile game 'Mario Kart Tour' for both Android and iOS devices. Those who don't know let us tell you Mario Kart Tour is the first adaption of Mario Kart Saga to the smartphones in which you can drive your vehicle on land, water, and air. You can download Mario Kart Tour from the link given at the end of this post. Before that have a look of the Mario Kart Tour new promotional video below.
https://www.youtube.com/watch?v=gINKLTdH4pY
Here is How to Download and Play Mario Kart Tour:
Step 1: Download The Mario Kart Tour App
You need to head towards the app store of your smartphone if you are an Android user open the Google Play Store, and if you are an iOS user open App Store. Now search for the 'Mario Kart Tour' by 'Nintendo Co. Ltd.' (Make sure you don't get cheated by any false app) and then click on the Install button available over there. Or you can directly access your App Stores from the link given below.
Click here to Download on Android
Before start downloading, make sure that your phone has sufficient space available to download and play Mario Kart Tour.
Step 2: Link Your Nintendo Account
After downloading and installing the app, now you need to link your Nintendo Account to the app, in order to not lose your progress in the game. If you already have a Nintendo account you can link that account, or if it is your first foray into the Nintendo then you can create a new account.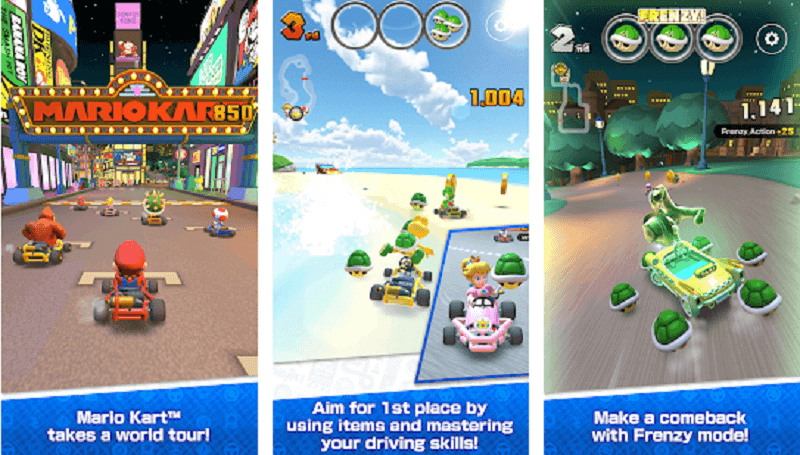 Step 3: Beware of Microtransactions
Mario Kart Tour is a free-to-play mobile game, but just like the other games it also offers the in-app purchases, which are optional microtransactions to buy cosmetics or gameplay items available like Characters, Kart Pants, etc. So if you are setting an account for children or don't trust your own self-control make sure to disable the in-app purchases.
Step 4: Get A Good Internet Connection
Nintendo's mobile games usually require a good internet to play, just like them Mario Kart Tour is also available to play through the internet connection. So for a better gaming experience with Mario, Luigi, and other friends, make sure that you have a good internet connection otherwise it might affect your gaming experience.
So by following the above-mentioned steps, you will be able to successfully download and play Mario Kart Tour smoothly.
Also Read: Top 5 Upcoming Mobile Games of 2019 You Should Keep An Eye On!
Stay tuned with Mobile Mode Gaming (MMG) for the latest Mobile Gaming News & Updates!