RPG is indeed a very popular and dominating gameplay genre. Many prominent RPG Idle games such as Almost a Hero – Idle RPG Clicker, Nonstop Knight – Idle RPG, Dragon Warriors, Crush Them All, Savior Saga, and Ragnarok Clicker has ruled this genre. Recently, Com2uS have released DragonSky: Idle & Merge which is quite innovative and fun to play.
This game is based on the dragon fight and its gameplay is very simple. All you need to do is discover the eggs having the baby dragons and grow them into the dragons. When you get two baby dragons, you can combine them to form a new dragon which is strong as it is the combination of two. The Idle shooting RPG that follows is similar to other shooting games. While playing, you can also collect the gems and coins to upgrade your dragons. An upgraded dragon is powerful and has more shooting skills. The way in which you also place your dragons determines your chances of moving ahead in the game.
The shooting from Dragon is auto-battle mode and cannot be changed. However, like other games, it won't bore you because the game moves very fast. You can compete with other players in the league battle and fight for the number one spot in the board table. You can even create your own dragon by using your credit points.
The game size is 222 MB but the graphics of the game can be improved more. It doesn't have good background graphics. But then, the dragons are designed in such a way that you can compromise. Since it is an Idle Merge game, there is a lot to play and explore until the end. You can move around and discover some of the legendary dragons. However, in-app purchases are tricky. They help you to move ahead quickly, but it's better to play the game as it proceeds naturally.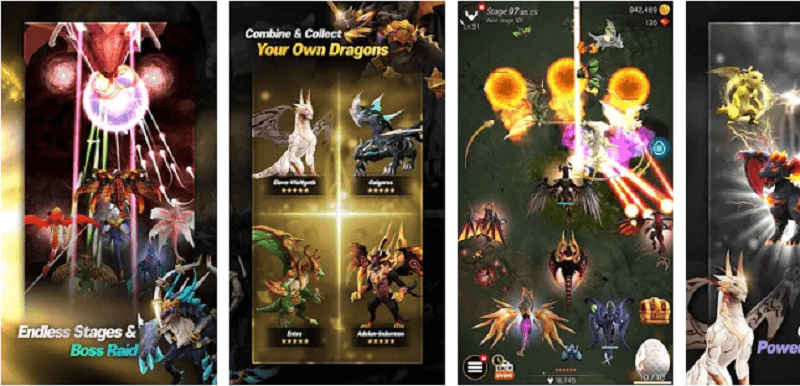 You cannot control dragons by multi-touch and that makes the things quite difficult in the game. Also, this game drains battery very quickly. The storyline that is shown sounds quite irrelevant too! There is also a problem with GUI. Sometimes you may not see where your dragons are! The game only works on latest android device otherwise gamers will only see a black screen when they open the game. However, the two unique features have gathered appreciation: Offline Mode and Hibernation Mode. DragonSky: Idle & Merge is available to download on both Google Play Store and iOS App Store.