SayGames is here with it's another stress killer fun and addictive game Perfect Slices. Simple and fun, where the knife is the king and all you have do is chop chop-chop from vegetables to golds and earn lots of rewards. It is available both on iOS and Android devices in both online and offline mode.
The game starts straight away where the knife is in your hand and vegetables on the carousel. Complete the given goal by chopping vegetables with a knife, earn coins in return and make a high score. Game is simple, the levels are easy. No strategy just hold down to chop and earn. Just don't lose your knife on any obstacle or you have to restart the level. Earn chefs on the successful completion of the levels to unlock the rewards. Also, unlock various other vegetables. The good thing is the game will start from where you left last. So there is no worry to save it or to restart it.
The game graphic and sound effect is good, without any complicated controls Perfect Slice is the perfect game for timepass. The good thing about the game is, there are lots and lots of rewards which you can earn without any arduous work. Unlock different knives either randomly or use coins to get one. Make your collection of common, survival, and epic knives big by earning lots of coins.
The only thing which bothers you is ads. There are lots of ads in which come at every 30 seconds, which will make you wonder if ads are running in the game or game is running in the ads. But ads help in providing rewards, double your coins and help you in unlocking the knives. But still, this much ads could not be justified in the sake of rewards. Even playing in offline mode it will poke you to the extent to watch their ads. Why these ads cant leave me alone with this perfect Perfect Slices?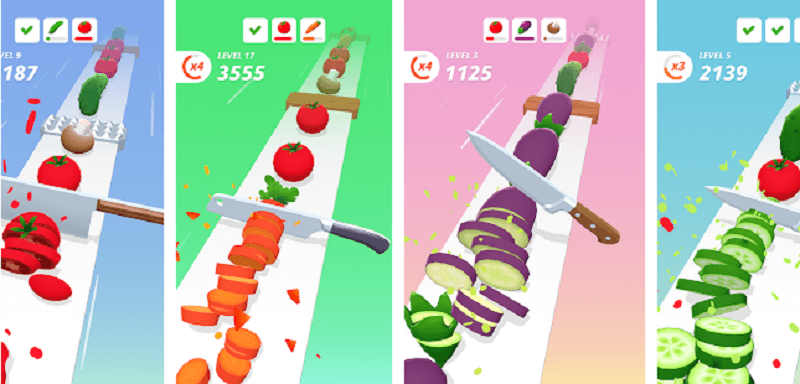 If you ignore the ads then it is fun to play this game. It releases your stress, calms your mind. Good for killing your time when stuck in traffic, waiting, or simply want to ignore the random conversation. You will surely addict to this game if ads don't kill your mood.
The game is the best. It's so simple that you can play with your eyes closed. It's not that, just saying because there are some hurdles also which could not be passed blindly. Overall the game is not a challenging one just an easy play. You can find Perfect Slices, the perfect killer on the Google Play Store and iOS App Store.