Hello Mobile Gamers, we are here for you with the amazing new news about the Pokémon Masters. So today the developers have released a new Pokémon Masters video titled 'Pokémon Masters News #01' in which they shared some great information about the game and here we are going to tell you the content shared by them in the video. You can have a look of the Pokémon Masters News #01 below.
Basic Information
In Pokémon Masters the Pokemon Trainers are aiming to become the champion of a tournament called the Pokemon Masters League (PML), which is being held in PASIO. The duo of a trainer and a Pokemon is known as the sync pair. The sync pair is set on a journey to enter the PML along the way you can also make new friends with many saint pairs like Brock, Rosa and Snivy. In order to collect the badges you need to qualify for the PML for that you have to battle powerful PML leaders such as Erika and Vileplume. For battling you can form an amazing teams of sync pairs with your favorite trainer and Pokemon from the past.
Story Event: Reach To The Top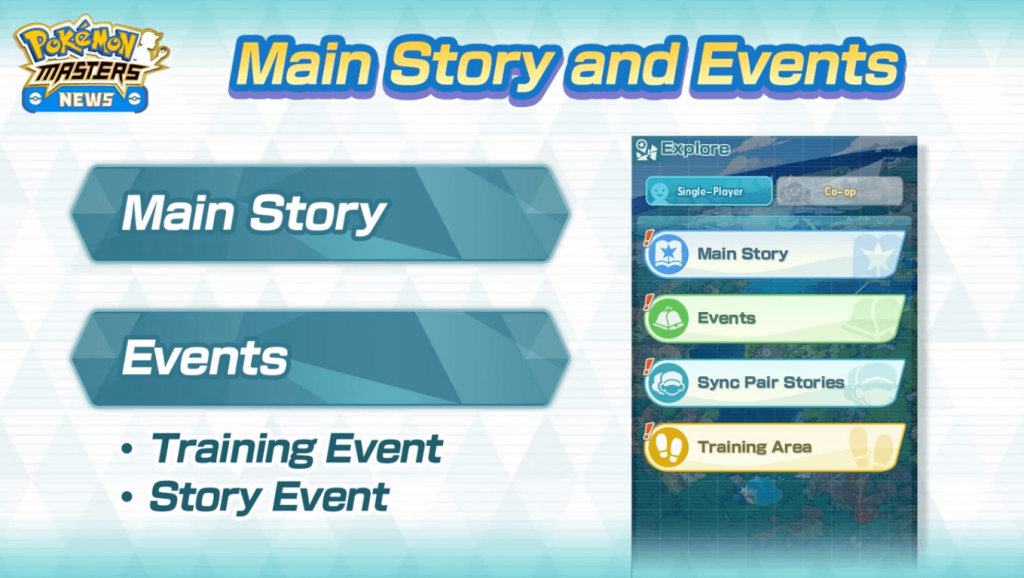 In Pokémon Masters, there is the main story in which you go on an adventure with the trainer, the event is focused on the sync pairs you have in your team are decided for you in the story events. So in this event you will get to experience the sync pairs which did not join you in the main story, not only that after completing this event you'll earn all kinds of rewards. There will also be special missions from time to time in the Story event. Like on the 2nd September one of the Kanto region's most prominent veteran trainers blue will join and in this special story you meet and battle other trainers from the Kanto region.
If you could not complete the event in the time, no need to worry events will eventually return so you'll have another chance to finish them later. Once the return date is decided, there will be an in-game announcement to let you know about the further upcoming events.
Blue & Pidgeot: Featured in the Sync Pair Scout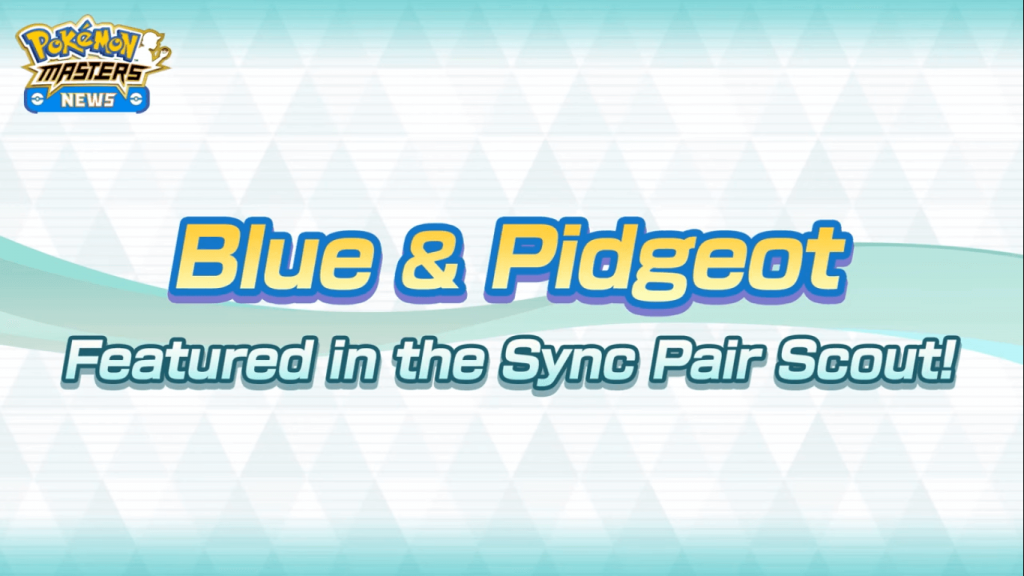 After the release of Pokémon Masters, in a new event which will start on 2nd September 2019 at 23:00 and will end on 29th September 2019 at 22:59 (PDT), the Blue & Pidgeot will be featured in the sync pairs scout. The sync pair Blue & Pidgeot use the powerful air cutter move which attacks all opponents, if blue uses his sync move Pidgeot will become mega Pidgeot and the pair can use even more powerful attacks.
In-Game Celebration of Launch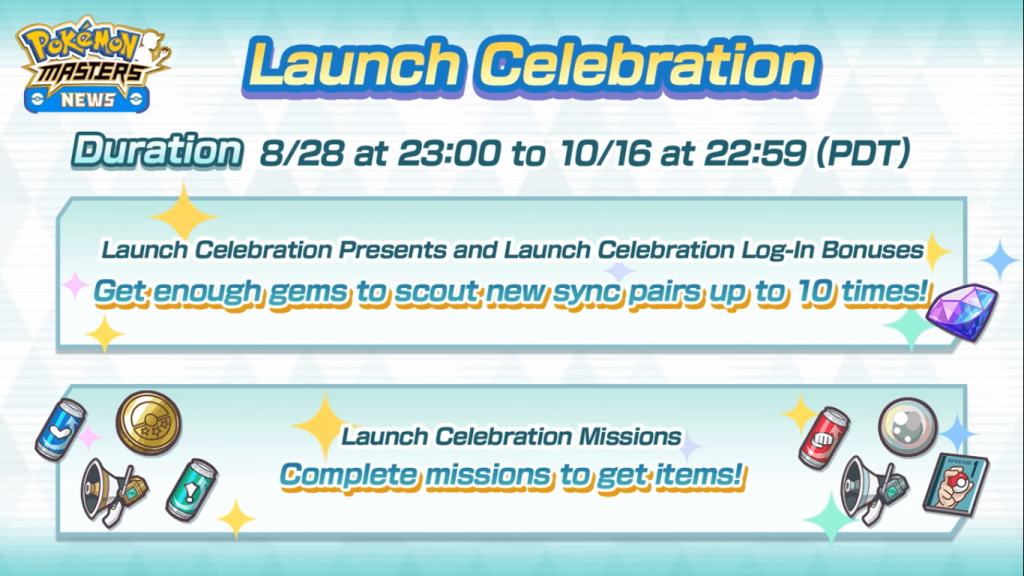 There will be an in-game celebration of the launch of the game in a variety of ways, such as gems will be given out as login bonuses which can be used in the sync pair scout feature to find new seed pair which can be added into your team. By collecting all the gems you will be in a position to scout new pairs up to 10 times. Furthermore, in the launch celebration missions, you'll earn items which are useful for training. By clearing the main story and engaging in coop battles you can train your favorite sync pairs, so this is a good chance for you to get new seed bears and train them up. This celebration will start on 28th August 2019 at 23:00 and will end on 16th October 2019 at 22:59 (PDT).
Sync Pairs
At the time of release, there will be a total of 65 sync pairs that you can get, which includes Norman, Slaking Viola, Surskit Whitney, Miltank, Flint, and Inferno, etc. And of course, more sync pairs are on their way, so don't forget to look out for them.
Release Date
Mr. Sasaki also confirmed the release date of Pokémon Masters, which is 29th August 2019.
There is a lot of content coming for you, so if you have not pre-registered for Pokémon Masters till now, you can do the same from here. Stay tuned with Mobile Mode Gaming (MMG) for the latest Mobile Gaming News & Updates!