Free Fire has got a new event called 'Penta Flip' between 2nd September 2020 to 8th September 2020. As the name itself suggest. In this event, you have to flip Penta (five) cards to win prizes. But you have to spend diamonds to flip the cards. But I personally feel that it is one of the best events of Free Fire to spend diamonds.
As you enter the Free Fire Penta Flip event lobby, you get to see five cards on your screen. These five cards contain the prizes of the event, including the grand prize(s). There are five grand prizes available in this game, among other small rewards. You are guaranteed to win all grand prizes within 700 diamonds, but in all probabilities, you can grab them even before that.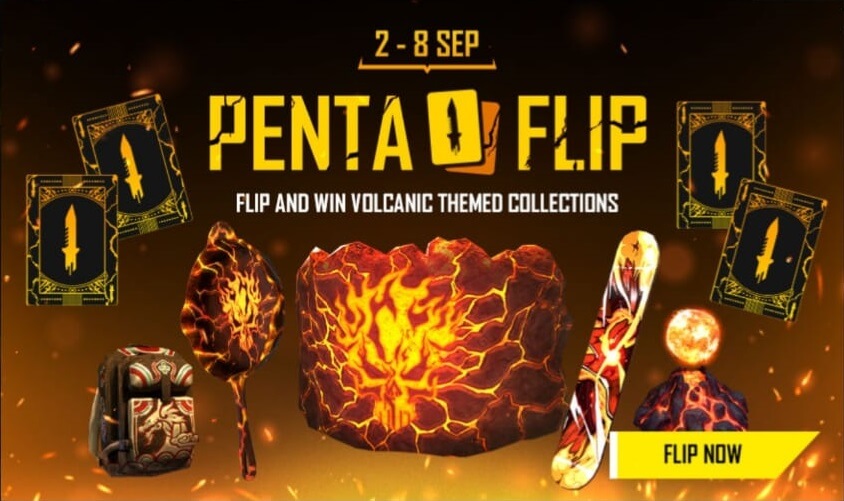 In the event lobby, you can see the five cards, including the one facing you, that contain a grand prize. Below cards, there is a 'Shuffle' button. As you click on this button, all cards will face down and get shuffled. Now you have to make the first spin using 20 diamonds by tapping on the card you want to flip.
If you do not get the grand prize by making a spin, it will be brought forward to the next round as well. Also, with every round, one grand prize gets added. It means in the second round; there are two grand prizes in 5 cards. You again shuffle them and flip your preferred card by spending 40 diamonds.
One new grand prize keeps on adding to the cards, and the previous ones also continue if you did not get during the last round(s). It goes on until the fifth round when all grand prizes make their way to the cards one by one. The price of flips also keeps on increasing in the order: 20, 40, 60, 80, and 100.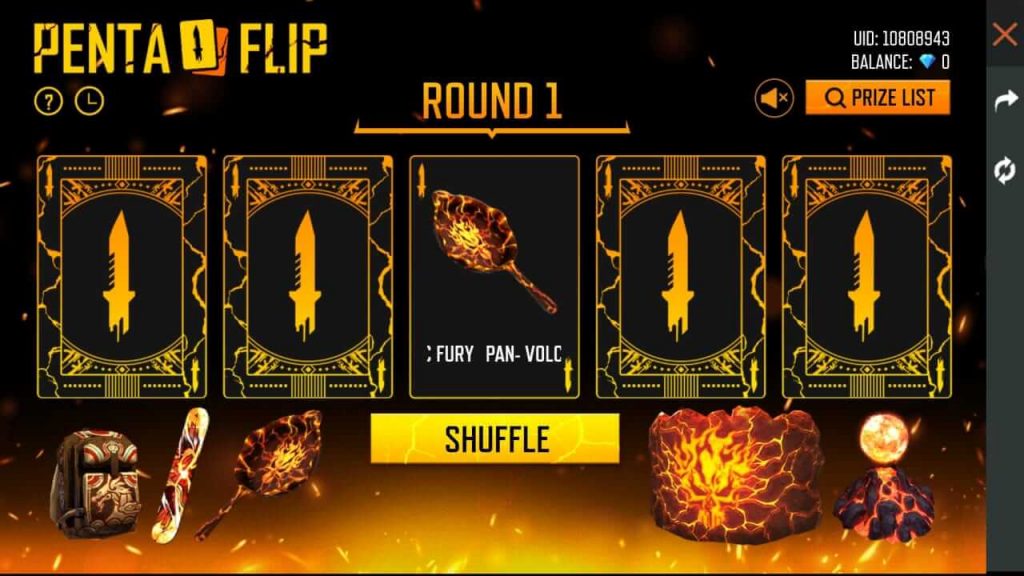 Rounds after the fifth round are called 'Final Round.' Only cards with grand prizes remain on your screen with a fixed price tag of 100 diamonds in these rounds. So you flip cards one by one by spending 100 diamonds to get the remaining grand prizes. It means you have to spend a maximum of 700 diamonds to get all five grand prizes.
Free Fire Penta Flip Event Prizes/ Rewards:
Grand Prizes:
Volcanic Fury – Pan
Flery Flames – Surfboard
Dragon Lair – Backpack
Volcano – Loot Crate
Volcanic Fury – Gloo Wall
Normal Prizes:
Flaming Wolf Gun Box
Demolitionist Gun Box
Playboy Gun Box
Booyah Gun Box
Flame AK Box
Fiery M1014 Box
Hellfire M4A1 Box
Warrior Spirit Famas Box
Diamond Royale Voucher (Expire By 31 Oct)
Weapon Royale Voucher (Expire By 31 Oct)
Cube Fragment
Incubator Voucher (Expire By 31 Oct)
Flame AK Box (x2)
Fiery M1014 Box (x2)
Hellfire M4A1 Box (x2)
Warrior Spirit Famas Box (x2)
Diamond Royale Voucher (x2) (Expire By 31 Oct]
Weapon Royale Voucher (x2) (Expire By 31 Oct]
Cube Fragment (x2)
Incubator Voucher (x2) [Expire By 31 Oct]
Also Read: How To Get Diamonds In Garena Free Fire
Stay tuned with Mobile Mode Gaming (MMG) for the latest Garena Free Fire News & Updates!