Garena released a bunch of pictures on Facebook of the upcoming rewards in the Battle Pass – free and Premium. These pictures cover the main attractions of the pass so that the players have an idea of what the Pass consists of and decide if they want to buy it or are okay with the free pass.
QQ9
Known as MP5 in the console games, QQ9 is an SMG weapon. The weapon has been renamed and it's safe to say that it is not going to be called MP5 in the mobile version. MP5 is most comparable to the RUS and the Cordite, which is why the mass is so pumped for the weapon. RUS has consistently served the players throughout seasons as a reliable gun with good damage, fire rate, and controllable recoil. Cordite, on the other hand, was the meta gun of Season 6 and will stay on top for a very long time because of simply how good the gun is. QQ9's comparison to these two weapons is extremely promising for us as the base game players who do not want to spend money will also be able to enjoy a good SMG.
CLUSTER STRIKE
Cluster Strike is the new scorestreak that will be added to the game with the Season 7 update. It is comparable to the Predator Missile as they deployed in almost the same manner. But Cluster Strike costs a lot more than the Predator Missile. It is for 950 points, which is obviously not easy to avail. Being a high tier scorestreak, people will expect a lot from it. But whatever gameplays have been released by YouTubers, the scorestreak is nothing new. Unlike the Predator Missile, which targets the players, Cluster Strike is deployed in a particle part of the map, much like a Stealth Chopper, and that part of the map will be rained down with missiles for a short period of time. Good thing is, the missile shower stays while you can clear up the map considerably. So, this scorestreak isn't terrible, but it's nothing new and nothing phenomenal.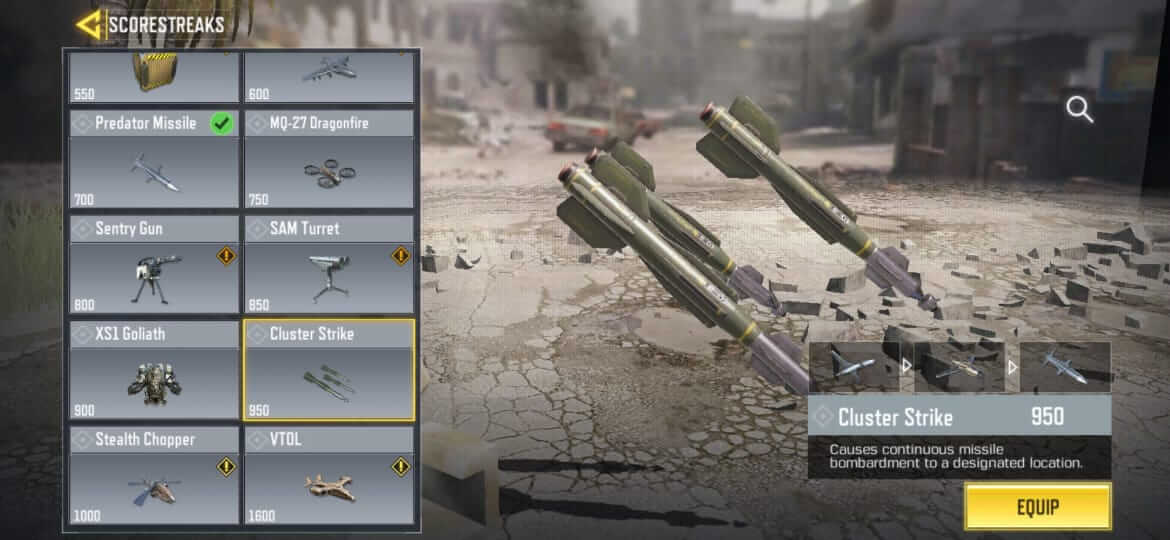 These are only what Garena has released and we will obviously be getting a lot more things, but keeping in mind the highlights we know that this season is going to be super exciting.
---
Also Read: Call of Duty: Mobile Season 7 Premium Battle Pass Rewards Revealed