Carrom Pool developed by Miniclip will refresh your childhood memories. The fun thing is Miniclip kept carrom real by adding a multiplayer function where you can tug against humans around the world. Also, you can play one-on-one matches with your friends. You can log in with Facebook and Google Play or simply go with play as guest option. The multiplayer option is in two modes— Disc Pool and Carrom.You can also play offline in practice mode. It also includes an in-app purchase. It is available for both Android and iOS devices. Let's find more about this pool, if it is any different from other digital carrom or not in this game review. 
It's a board game. Rules as simple as any other carrom. Set and hit. Put all your pucks in the pot to win. You will start as a Beginner and by winning various stages your rank will increase. There are different stages from which you choose. They all have different entry fee from 200 to 10,000 with price money double than the entry fee. By selecting the one you will get a random opponent with whom you will match and if won then get the price money. You can also in-chat during the game. If you get lucky, the server will go down giving you a free win with lots of rewards and leveling up the game, that too because of the server issue. You can also leave the game in middle losing your entry fee and reward. If you go for the play with friends option then you will gain 100 free gems.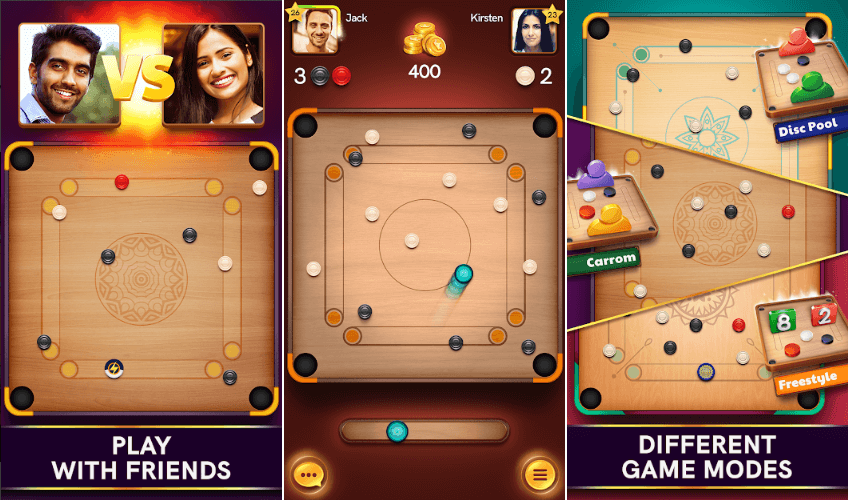 In-game you will be getting free coins at every set hour. You can also shop for chests, coins, diamonds with real money and with diamonds. You can see your profile, change your name and can set picture of yours. There is an option of 'Lucky Shot' which you will get free every day. In which you have to hit the gold striker in its place which will get you many free rewards.
Controls are pretty easy and smooth just slide, focus and hit without much complexity. It's virtually good. The game sound effect is good giving you a real feel of carrom. It's easy to play, easier than playing carrom in real. It gets addictive after some matches.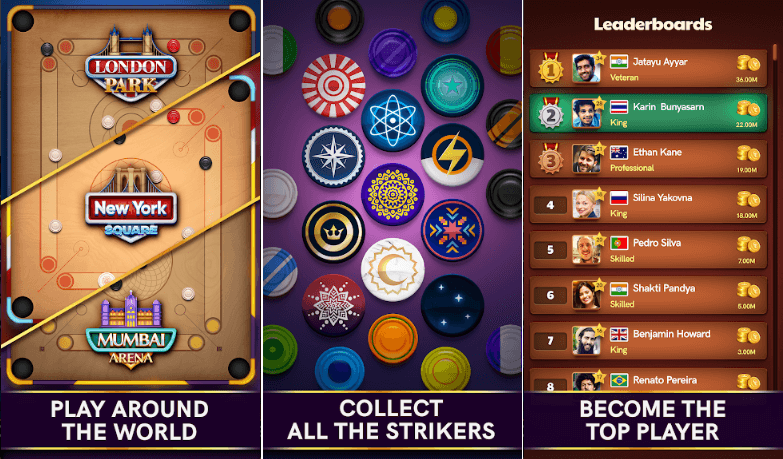 The problem is instead of being so fun and addictive it freezes in the middle of the game. It starts connecting and connecting even with the good network. The player starts showing offline and keep you wait more than the one minute finally making you leave the match in between. The good thing is your coins were safe with you if the game go in it's connecting coma. The game pauses, stop anywhere in the middle and take you back to the home screen. It could be a good time killing game and a killer game itself if these bugs were not there. It makes the game look cheap which is not at all expected from the Miniclip.
Overall, the game is no doubt fun and addictive. One must go for this. Even you don't like carrom in real you will surely like this virtual Carrom Pool. Where you can become the master of carrom raking at top of the carrom king list. Carrom Pool is available to download on both Google Play Store & iOS App Store.