Hello Mobile Gamers, Universal Studios Interactive Entertainment LLC has released its mobile First Person Shooter (FPS) game 'PAYDAY: Crime War' for both Android and iOS devices. You can download PAYDAY: Crime War from the link given at the end of the post. Earlier, this game was available for PC and Console only, but due to the increasing trend of mobile gaming, developers have also released this game for mobile. Have a look of the PAYDAY: Crime War trailer below.
In PAYDAY: Crime War you have two options to choose, either you can become a Cop or a Heisters (Robber). If you choose to be a Robber then you have to break into a safe, or if you are a Cop then you have to do anything to stop the Robbers. Just like the PC version there a lot of characters available to choose from, both Cops and Robbers. Not only that, the more you play, the more new content will get unlocked, like a lot of masks, weapons, accessories, suits, loads of new safes and even more exclusive content. There are various places such as Jewelry shops, Banks, etc. which will be available as a map in this game. This game is designed with spectacular graphics and is very easy to play that a person from any age group would easily fall in love with it.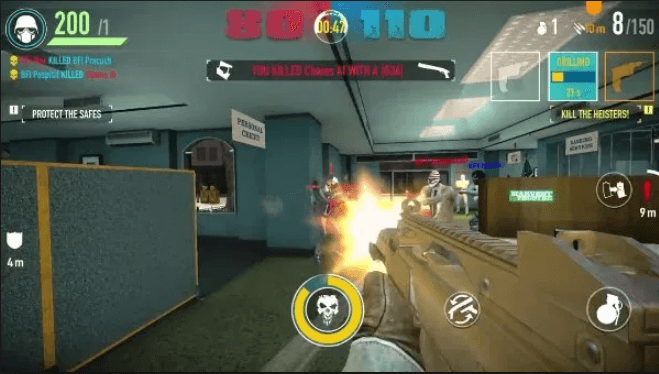 The Controls of PAYDAY: Crime War are well adapted to the touchscreen mobile devices. On the left side of the screen, there is a virtual stick to freely move your character in any direction and at the right side of the screen, there are buttons to use your weapons, which you get after completing missions. Basically, as the time passes you get the score on the based on your kills and at the end of the round, the team with the highest score wins. It is an FPS based game that manages to bring PAYDAY's fantastic game experience to the Mobile Devices. So what are you waiting for download PAYDAY: Crime War from the link given below on your Android or iOS device.
As the game has not been released globally, because of that some of you might not be able to download PAYDAY: Crime War from the above links. 
Stay tuned with Mobile Mode Gaming (MMG) for the latest Mobile Gaming News & Updates!