Many new features have been added in the PUBG Mobile after the 0.12.0 update. First the free premium crate coupon from the Easter Egg (Checkout the details here : bit.ly/pubgmobilecommunity6), then a chance to get the Pink Rose Set for free, and now it is officially giving a whopping 7000+ UC that too for free.
One can easily grab it by using the new official buddy app for PUBG Mobile, named WeGame for PUBG Mobile – Official buddy for PUBGM.
WeGame for PUBG Mobile: Now one might be wondering what is this new app? Is it safe to use? to answer your curious mind, Yes the app is totally safe to use as it has been posted on the official PUBG Mobile Facebook page. It is basically a buddy app where one can interact with other PUBG Mobile players by talking, sharing your amazing skills and side by side earning free UC!
It is mentioned that : "WeGame for PUBG Mobile' is a free official buddy helping PUBG Mobile players to share the funniest game highlight at any time. You can learn how to play better and much easier to get 'chicken dinner', you can also find more and play with the local players in this app."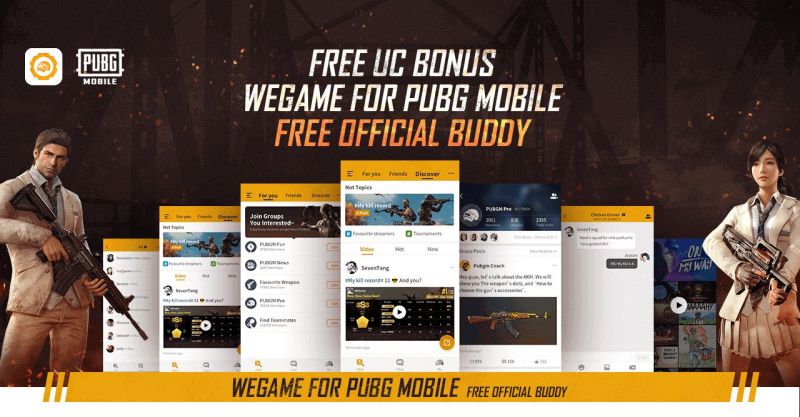 How to register in the official buddy app and earn free UC in PUBG Mobile?
Step 1: First, you need to download the app WeGame for PUBG Mobile. One can download app from this link: http://bit.ly/pubgmobilecommunity5. Please note that the app is currently limited to India only and in future it may be available for the rest of the world.
Step 2: Now login with the Facebook, and go to the 'Chat' tab. There put your PUBG Mobile Nickname and game ID.
Step 3: Wait for the lucky guy list which will appear after April 30th.
101 lucky guys will be rewarded randomly. 100 lucky guys will be rewarded with 60 UC and the luckiest guy on the app will get 1000 UC. The free UC does not stop here. You can also earn free UC in the feedback of the app, 3000 UC will be given just for feedback!